Yes indeed. To start the New Year, Les Enluminures is exhibiting Bill Voelkle's amazing collection of fakes and forgeries.
The exhibition is a provocative one, raising fascinating questions about the origin and reception of works of art - and, as you'll see, many of these fakes are quite beautiful. Our blog post today is an interview between Sandra Hindman, owner of Les Enluminures, and Bill himself. If you are in New York, please stop by and see the show.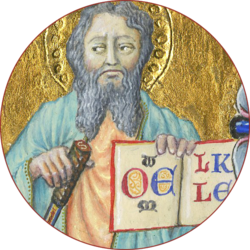 And a quick word of reassurance from Christopher de Hamel:
It must be emphasized that most medieval illuminated manuscripts are completely authentic; entire forgeries are rare and usually easily detectable. This wonderful exhibition raises ethical and aesthetic issues that tell us a great deal about the age in which we live. This collection could really only have been assembled by a humane scholar deeply immersed throughout a lifetime among the incomparable and authentic treasures of somewhere like the Pierpont Morgan Library. These are fantasies on very fringes of the illuminator's craft. Are they really forgeries, hoaxes, jokes, conjurers's tricks and illusions, or works of art? You decide.

SH: How did you get started building this collection, which is highly unusual for a museum curator?
BW: The Spanish Forger started it all for me. When I first began working at the Morgan in 1967, someone brought in two of this artist's paintings. I was as green as could be, a complete novice, so I showed them to the then-curator John Plummer, and he immediately recognized them as the Spanish Forger. I was amazed. It turned out that this was an artist who already had quite a history at the Morgan. The first Director of the Pierpont Morgan Library, Belle de Costa Greene, was the person who both exposed the artist in about 1930 and gave this forger his name.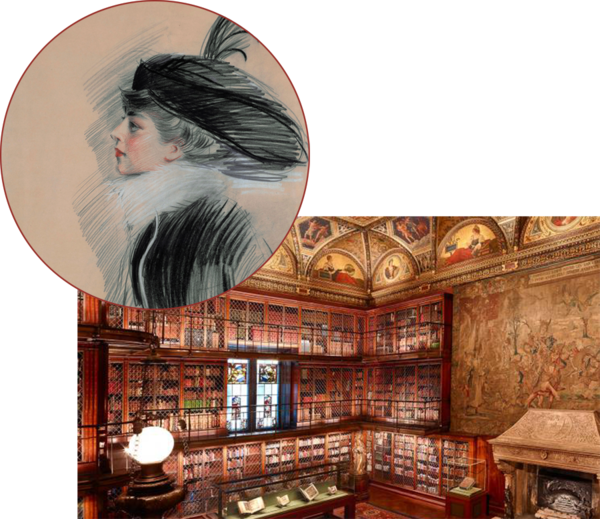 Belle da Costa Greene, pastel portrait by Paul César Helleu, ca. 1913 (detail). And, The Morgan Library and Museum, New York.
She demonstrated that a wonderful panel painting of St. Ursula, attributed to Maestro Jorge Ingles, an artist active in Spain in the mid-fifteenth century, could not be "original" and was instead painted more recently – by a Forger. Hence the "Spanish" part of the conventional name for the Spanish Forger. During her time at the Morgan Belle de Costa Greene kept a running list of his work that by 1939 included fourteen items. John Plummer continued the list, reaching fifty works, and my own list now includes over 400 works (117 panels and triptychs, 11 manuscripts, 283 leaves). So, you could say that the Spanish Forger was born at the Morgan. We suspect now, however, that his style has nothing to do with Spain because he seems to have plied his trade in Paris, France. Clearly he painted for profit and to deceive, exploiting a market for a particular vision of medieval times.
SH: What date did you buy your first work by the Spanish Forger?
BW: Although I bought my first work in 1972, the Triptych of a Baptism with Saints George and Barbara on the wings, from the Schweitzer Gallery in New York, it is not in what I call the "core" style of the artist.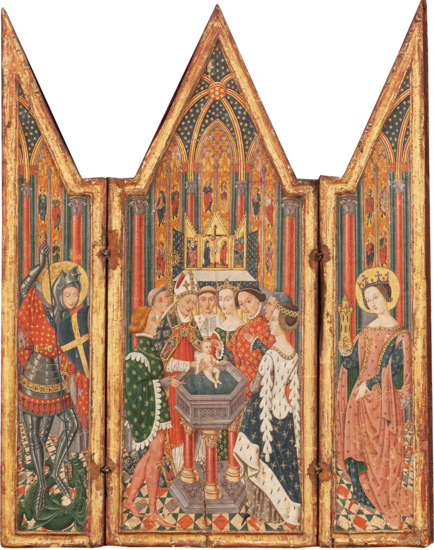 Triptych with Baptism Scene; wings with Saints George and Barbara (P21). The Spanish Forger, Paris, 1st quarter 20th century.
Panels, 475 x 378 mm (with wings open)
So, for me the real peak came in 1974 when I acquired the panel painting of St. Martha Taming the Tarasque. This painting remains today one of the largest and most important in the "core" style of the artist.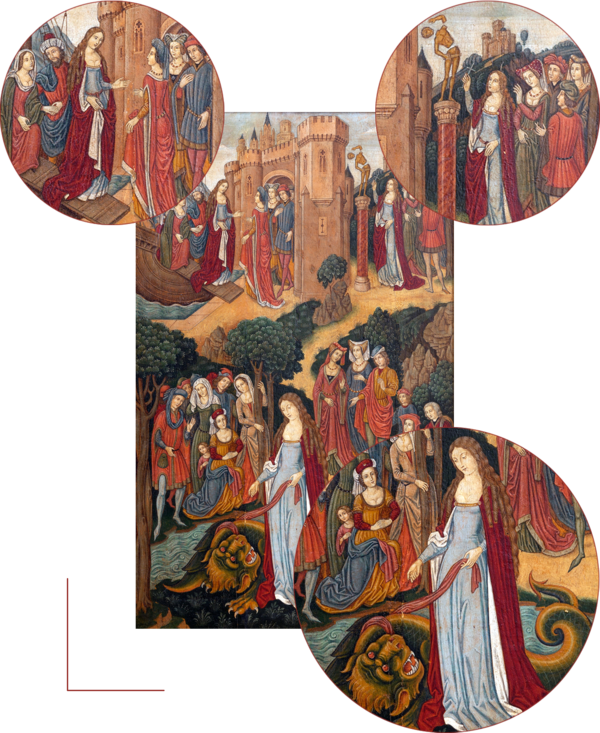 St. Martha Taming the Tarasque (P20)The Spanish Forger, Paris, 1st quarter 20th century. Panel, 715 x 445 mm
There is an amusing story that goes with my purchase of this painting. It was up for auction at William Doyle Galleries in New York, where it was catalogued as "18th century German Madonna." I started bidding, and my opponent in the auction room kept going up and up. Finally, I dropped out. After the sale I went up to the winning bidder and told him that I would include his painting in my Spanish Forger show. He was taken aback that the painting was not genuine. He then blamed the auction house for faulty cataloging, although he was buying it because he believed it to be fifteenth century, and he refused to pick it up. I subsequently spoke with Bill Doyle, the owner of the auction house, and was able to acquire it for just $300. I and my opponent-at-auction became friends, and I invited him to the opening of the Spanish Forger show at the Morgan (Martha was the frontispiece of the catalogue). He even offered to buy my painting which he was still very much attracted to, and he said he regretted not having. Of course, I kept it.
SH: How did your collection evolve after your initial interest in the Spanish Forger?
BW: I began to be interested in the broader question of fakes and forgeries in other cultures and in a variety of media. This is around the period when museums started to do exhibitions, such as a well-known exhibition in Minneapolis in 1973 entitled "Fakes and Forgeries" that featured a couple of Spanish Forger works but also an extensive range of other artworks. I own a small group of Ethiopian codices by an artist now known as the Synkessar (from Synaxary or Synaxarium) Miniature Forger, a painter thought to have worked in modern-day Ethiopia in the 1980s.
St. George Killing the Dragon and Virgin and Child with Angels Gebre Hemamat (Services for Passion Week), in Ge'ez Ethiopia, mid-nineteenth century, supplied with miniatures by the Synkessar Miniature Forger in the 1980s
They started to appear in the West in the 1980s with export licenses, were illuminated with between twenty to forty miniatures, and some were sold as genuine by Sotheby's. In fact, under Emperor Haile Selassie (1892-1975) no manuscripts of any antiquity could be exported without a license, making it virtually impossible to obtain richly illuminated royal manuscripts. Initially, it was not recognized by Sotheby's or others that the Synaxarium, or a collection of saint's lives, is actually a relatively common text in Ethiopia (the British Library has twenty-four such manuscripts) but was never illustrated and since they are written in Ge'ez, few people in the West could read them. So, although these massive, extensively illuminated manuscripts might have aroused suspicion, at first they didn't. Most of the miniatures were painted over text and do not exhibit the signs of wear found on the vellum; their condition is thus at variance with that of the vellum. Clearly the licensers were aware of the hoax.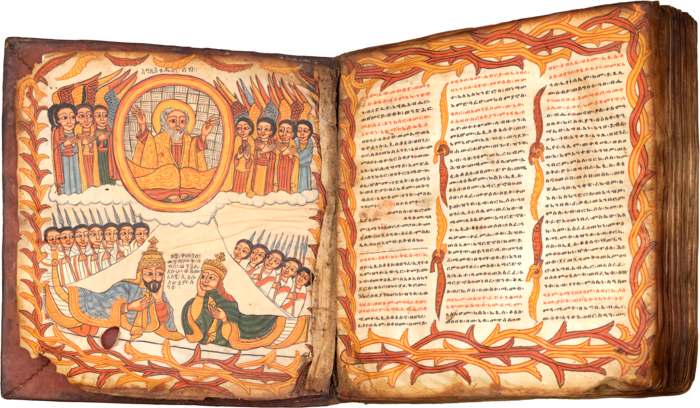 Synkessar (Synaxary), second part, in Ge'ez Ethiopia, late 17th or early 18th-century with miniatures supplied in the 1980s by the Synkessar Miniature Forger and associates; according to bogus colophon on fol. 1v it was written in 1681 (i.e. 1688-89) for Atse Yohannes I (reigned 1667- 82) and his Queen Sebl Wengel.
One of my Synkessars was ostensibly made for Atse Yohannes and Queen Sebl Wengel, who are depicted on the frontispiece (fol. 1v) lovingly gazing at each other. They are protected by the royal guard, while above, in a mandorla flanked by angels, a blessing God looks on.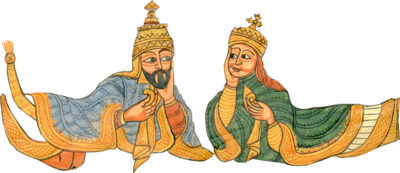 SH: Many of your pieces come from auction. Can you comment on the role auction houses have played in the formation of your collection?
BW: It's true that I have benefitted from auction sales. It works both ways. I have also been able to acquire "real" works described as fakes. One of the gems of my collection is an illuminated leaf from a Choir Book by a fifteenth-century Spanish painter known as the Master of the Cypresses, an artist responsible for an extensive series of Choir Books mostly in Seville Cathedral. His miniatures often display cypress trees in the background landscapes – hence his name. My leaf was sold at auction in New York described as painted by "Victorian ladies." I knew it could not be Victorian and some years later when the Getty Museum bought a leaf by the Master of the Cypresses, I realized that mine was by the same artist.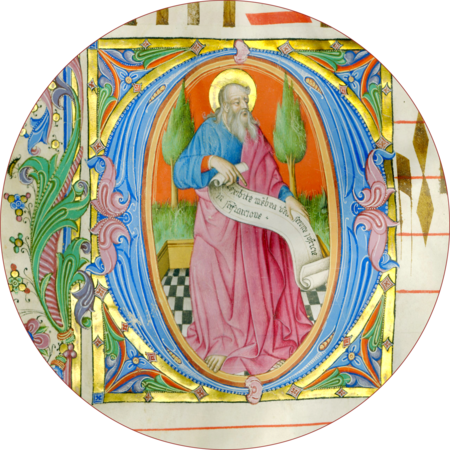 Illuminated leaf from a Choir Book by a fifteenth-century Spanish painter known as the Master of the Cypresses (detail).
SH: What is your most recent acquisition?
BW: My answer relates to another story. One day, a fellow named Ovid (of all things) brought into the Morgan a shopping bag of 8th to 10th century Mayan codices. Just glorious. If right, they would have been the earliest illustrated manuscripts in the Americas. What a find. The manuscripts had even been carbon dated! Then, the whole thing collapsed. I sent the images to Michael Coe, the expert on Mayan glyphs at Yale University, and it was his view that the glyphs were wrong. The carbon dating applied to the material on which the forger painted but not the paintings. The deceit was exposed when codices that were dated centuries apart had paintings by the same artist. The Spanish and Synkessar Forgers also painted on genuine manuscripts; the Spanish Forger's manuscript stock, for example, varied from the fourteenth to the sixteenth century!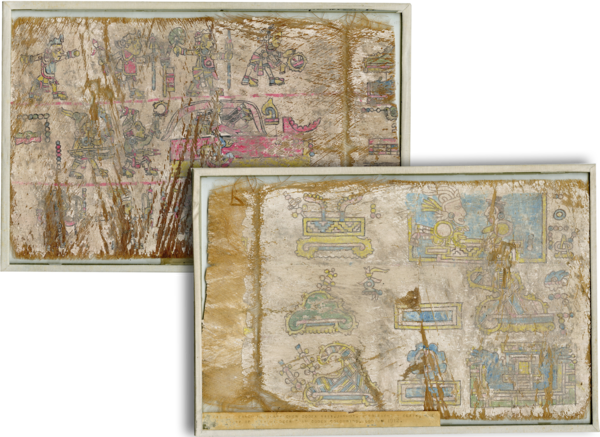 The Killing/Sacrifice of Lord Eight Deer Jaguar Claw (bottom Mexico?, early 20th-century). Bark covered with slaked lime, 200 x 315 mm, with paintings on both sides.
SH: Do you have a favorite forgery within your vast collection?
BH: Indeed a couple of them. There is a beautiful miniature of the Nativity painted after Morgan MS M.72. Strictly speaking this is not a forgery, but rather a copy or a facsimile, for the nuns of Maredret use medieval techniques and styles to make "modern" illuminations.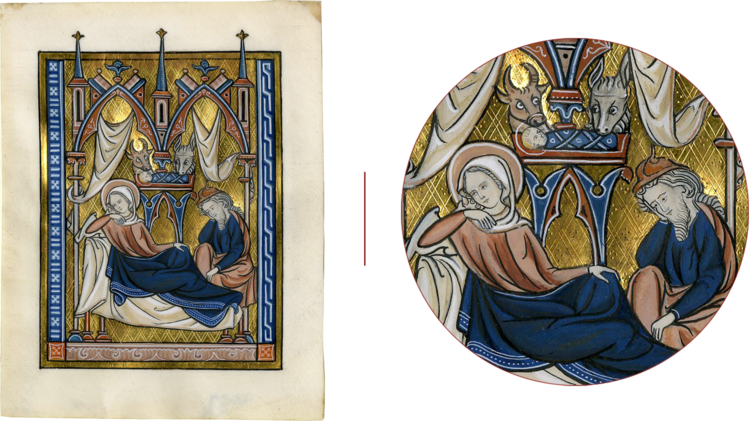 What fascinates me about collecting is learning about my pieces. So, to explain my interest in the Nativity miniature, I need to tell another story about the Morgan. There is a manuscript of the Nuptial Mass in the Morgan by the nuns of Maredret (MS M.658). It shows a marginal illustration of medieval archers shooting arrows at zeppelins, a sort of pictorial souvenir of the presence of German troops in Belgium during World War I. It was purchased by J. P. Morgan (Pierpont's son) through Sir Frederick Kenyon, Director of the British Museum in 1921 and given by him to the library. Thus, when Maggs recently offered a Nativity presumably sent as a Christmas card (inscribed "Affectueux souhais de Noel, Cecile de Hemptinne") to Lady and Sir Frederick Kenyon about 1920, I immediately bought it, recognizing that the Nativity was a copy of fol. 8v of the Morgan's MS M.72. But there were other compelling connections as well, for Greene had sent the nuns a copy of M. R. James, Catalogue of Manuscripts from the Libraries of William Morris, Richard Bennett....London, 1906, which had a few actual size color plates, including M.72, fol. 8v, the source for the copy! Kenyon did much to promote the work of the nuns, and the Nativity is probably by Sister Marie Madeleine Kerger (1876-1959). In a letter to Dyson Perrins of 6 January 1921 Kenyon praises the work of Kerger, the principal artist at Maredret.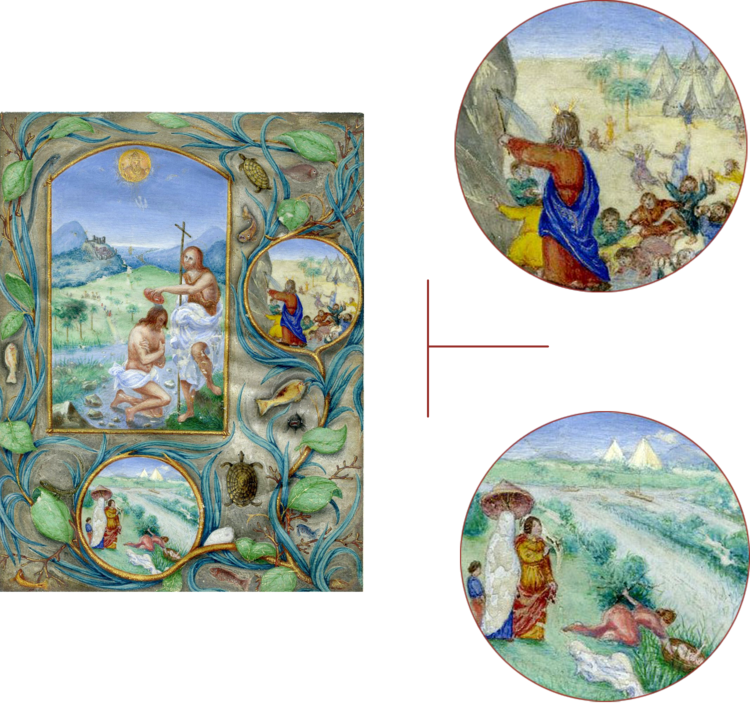 Baptism of Christ with two border roundels (Moses striking the Rock, Pharaoh's Daughter Finding Moses on the Nile), and borders with sea creatures Flemish, 16th-century or later
A second one is a leaf in a sixteenth-century Flemish style that I bought at Swann's in which the artist ingeniously used aquatic themes in the borders surrounding the Baptism of Christ: fish and turtles swim among the plants, while in the two roundels Moses produces life-saving water when he strikes the rock, and Pharaoh's daughter finds Moses in the bullrushes of the Nile. The latter, remarkably, includes the pyramids of Giza! (The pyramids were known from Roman texts, such as Pliny and from travelers. I have not had a chance to look into the history of their depiction).
Nothing is for sale (What price can one put on a "beautiful deception"!)
"Holy Hoaxes: a Beautiful Deception. Celebrating William Voelkle's collecting" will be held from January 17 through February 2, 2019 at Les Enluminures New York.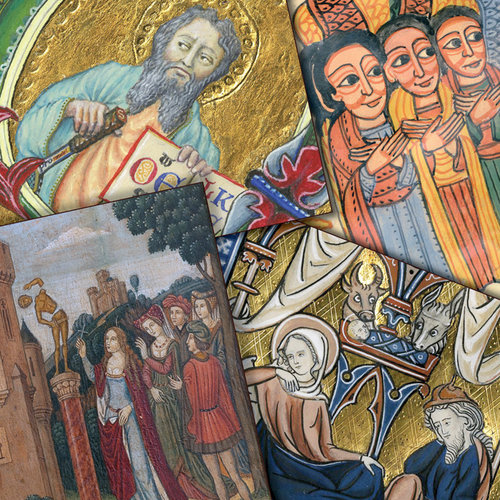 You can now receive periodic blog post updates by submitting your email up above in "Follow Us."