In most of our encounters with writing on the medieval manuscript page, we know very little about the person who set pen to parchment (or paper) long ago. Their script may tell us a bit about them. Paleographers, those who study early handwriting, can often place and date scribes' hands on the basis of particular script features or even recognize a particular hand in multiple manuscripts. For us to put a name to a hand, though, we still generally need some additional help from the scribe.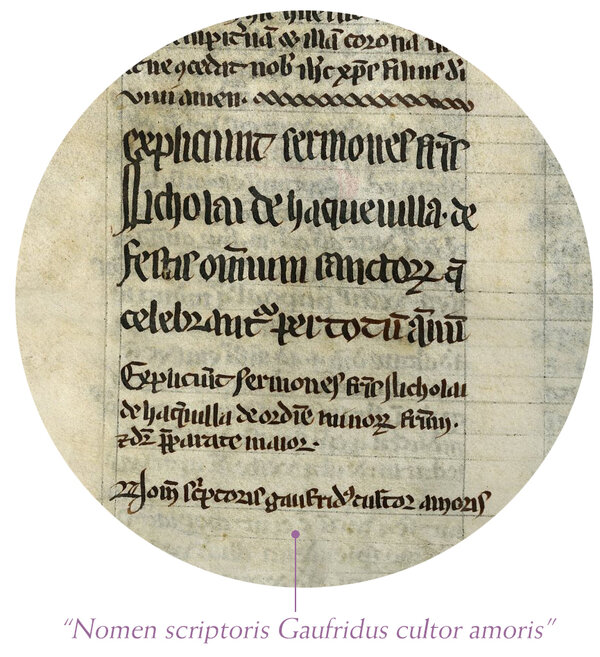 This scribe has signed his name at the end of this substantial sermon collection that he copied, the Sermones de sanctis et de communi sanctorum of Nicolaus de Aquavilla, TM 783, f. 210v (detail), France (Paris?), c. 1275-1325
In this case, the scribe, one Gaufridus, has obligingly named himself in a colophon, a sort of scribal "signature," at the close of a book of sermons he had copied. This one reads in full, "Nomen scriptoris Gaufridus cultor amoris." The name of the scribe is Gaufridus, a devotee of love. Scribal colophons like this one are relatively uncommon in medieval manuscripts, though they did become more common in the later Middle Ages, and were then adapted into a print convention. One of our recent posts even features a twentieth century scribe who identified herself in a colophon!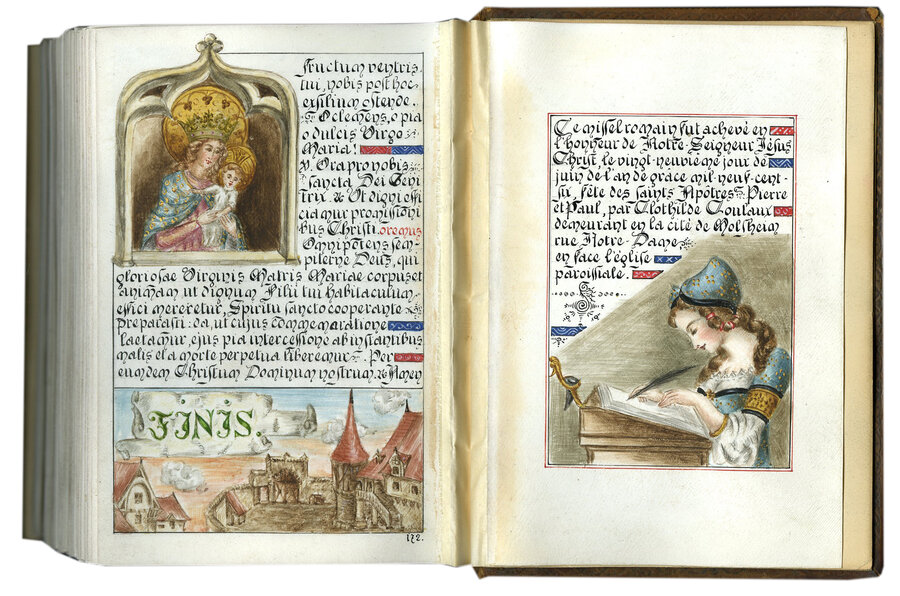 This early twentieth-century scribal colophon is not only extremely informative but it may accompany a self-portrait of the scribe and artist, Clothild Coulaux, who created this charming Missal, p. 173, France (Alsace, Molsheim), June 29, 1906
Colophons might share relatively practical information concerning a book's production, say, the place or year in which it was completed, as in this twentieth-century instance. Some medieval scribes even record the precise duration of their labors, a particularly exciting bit of information for those of us who study manuscripts and their production! Scribes might also share how they felt about their work (as one might expect, complaints of tedium, cold, and tired fingers tend to crop up) or their motivations (money, perhaps, or spiritual reward). Requests for prayers and curses upon book thieves also appear with some frequency in colophons. And, of course, plenty of colophons supply scribes' names.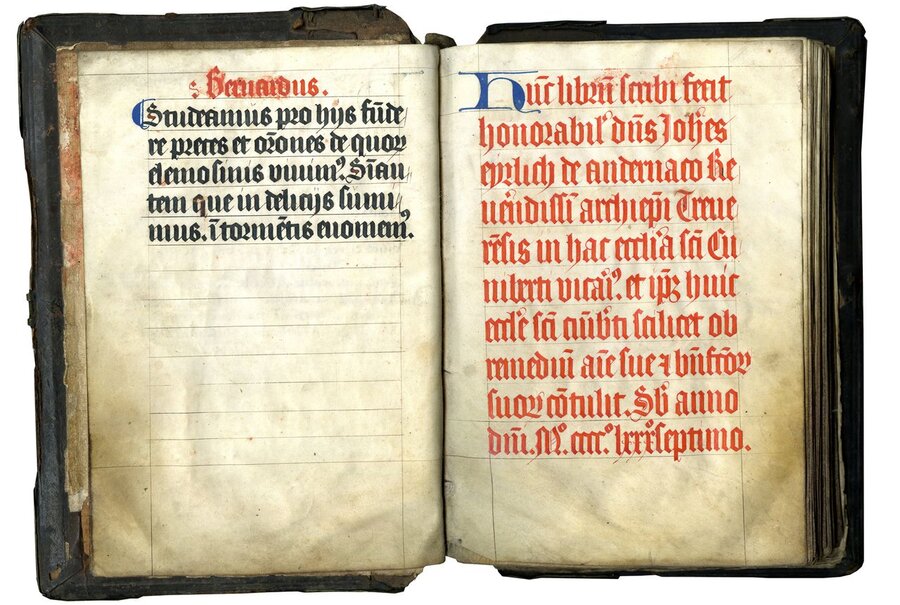 This colophon, written in red, identifies who commissioned this manuscript, an Office of the Dead, made for the church of St. Kunibert, in Cologne, TM 644, ff.2-3, Germany, Cologne, 1487 (with 1727 additions)
Going back to Gaufridus, a tantalizing tidbit accompanies his identification. He is, he tells us from across seven centuries, a cultor amoris, a devotee of love. He is not the only medieval scribe to call himself this, and, in fact, the phrase shows up in medieval and early modern, poetry, epitaphs, even a twelfth-century encyclopedia! Still, it is a perplexing remark, here in this book of sermons. Even as he shows himself in this colophon, Gaufridus leaves us wondering what this might have meant to him, who he was, whom (or what) he loved.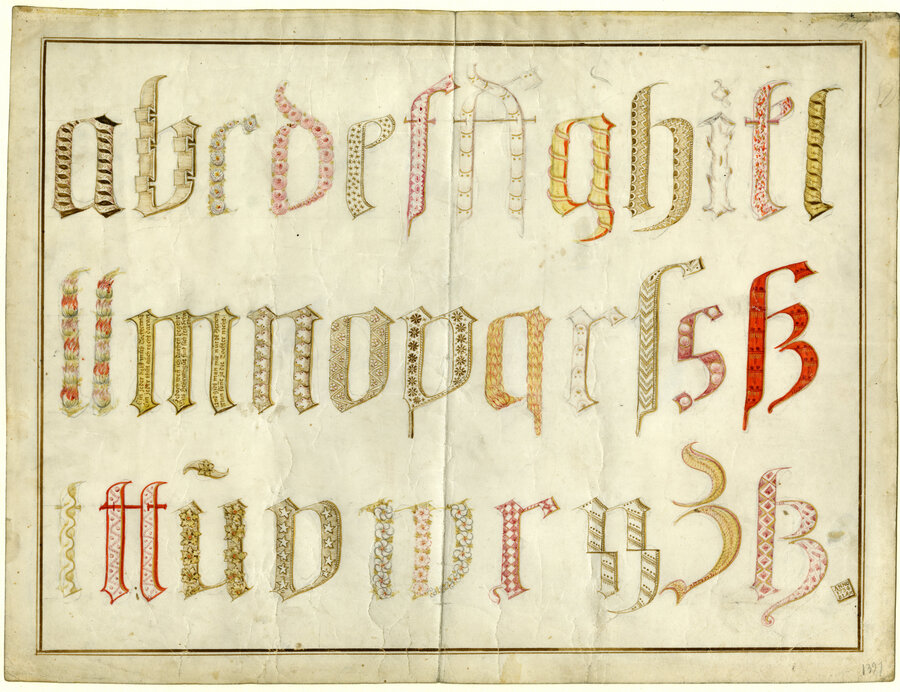 An intricately adorned alphabet showcases the skill of an eighteenth-century calligrapher, Hieronymous Tochtermann, TM 848, Germany, Augsburg, 1734
The writing master who produced this delightful eighteenth-century alphabet sheet, Hieronymous Tochtermann, exhibits a similar flare for mixing revelation with mystery. In the midst of this display of his calligraphic skill, Tochtermann has concealed a verse colophon. While most letters are filled with stars or blossoms or other finely detailed patterns, one has been filled instead with micro-script: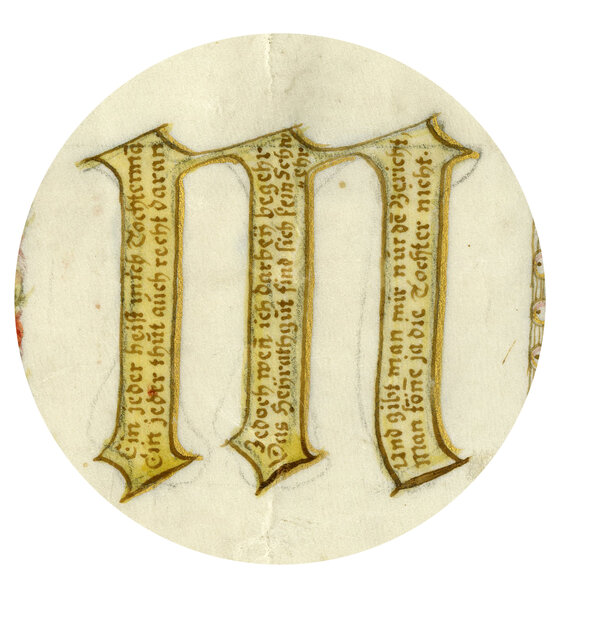 A verse, written in a fine micro-script, completely fills the letter "m" in TM 848
Ein jeder heist mich Tochtermann
Ein jeder thut auch recht daran
Jedoch wenn ich darbey begehr
Das Heyrathgut find sich fein schwehr
Und gibt man mir nur den Bericht
Man könne ja die Tochter nicht
Tochtermann identifies himself through this punning verse. Everyone calls him son-in-law, he remarks, and they are right to do so (this being one meaning of "Tochtermann," literally "daughter man"). And yet, he wrily laments, he has no dowries to show for it. And if there are to be no dowries, he concludes, he will not accept the daughters either. The pun, the poem, and its sly incorporation into one of the letters speak to Tochtermann's pride in his skill – even the way he signs his name to his work shows off his abilities! More than that, though, his playful concealments reveal the calligrapher's wit and sense of fun, as vivid as though we were encountering the man himself.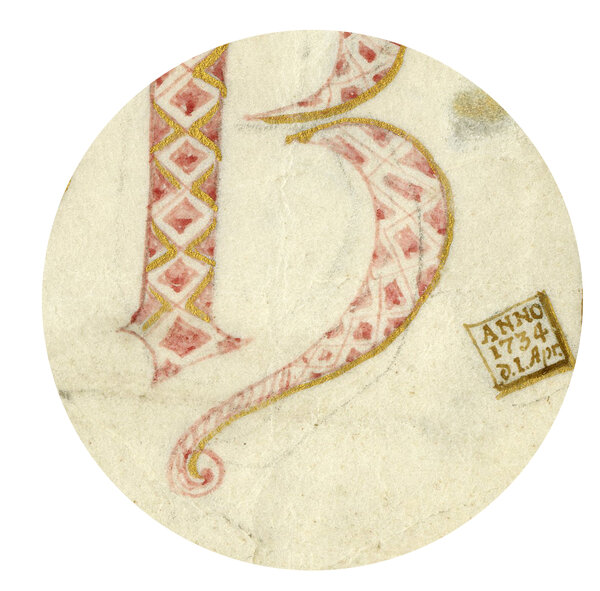 Look closely and you can see where Tochtermann dated his work – in the period at the end of his alphabet sheet, TM 848
Check out our newest catalogue "Script" to read more about these scribes and their work and to see what you can discover in the script of many more.