Since 1991, Les Enluminures has sold important examples of early drawings both to major public institutions and to private collectors. Today, opportunities to purchase drawings before 1500 are extremely limited, and even drawings before 1600 have become scarce on the art market, making the drawings assembled here particularly remarkable.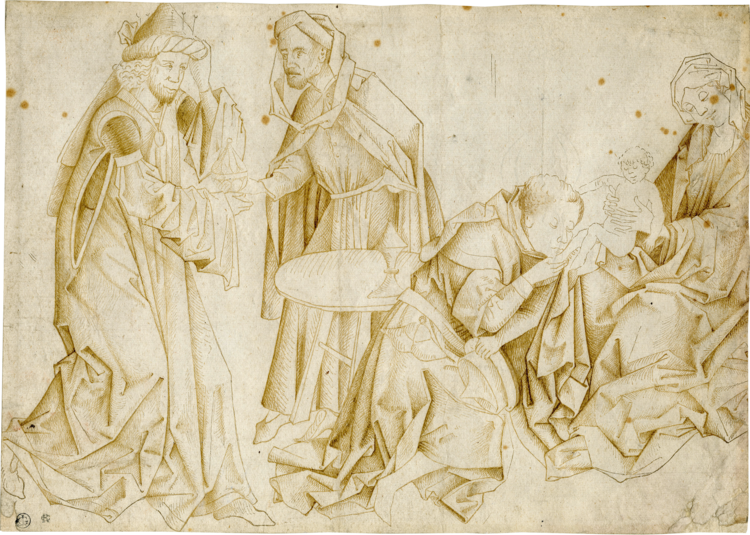 This early German drawing depicting the Adoration of the Magi preserves a copy of a lost painting from the Pleydenwurff-Herlin circle in the latter 1460s.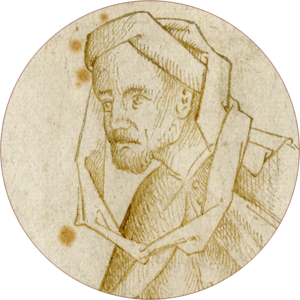 Collected over the past fifteen years, the thirteen Old Master drawings included in this exhibition date from about 1465 to 1670.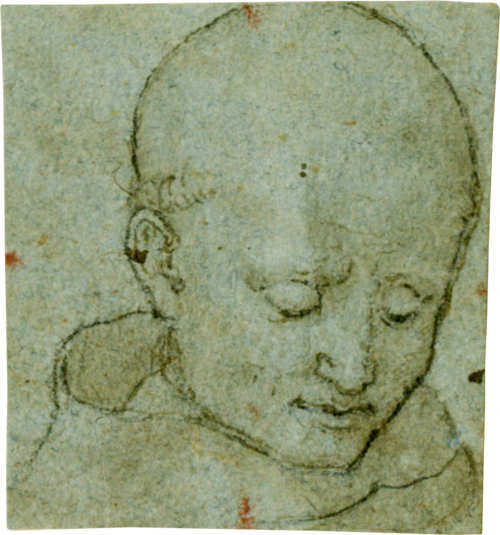 Chalk only became an important drawing technique in the last half of the Quattrocento as seen the modeling of this delicately rendered Head of a Friar from Northern Italy.
The drawings are geographically wide-ranging, originating in Italy, France, Germany, and the North and South Netherlands.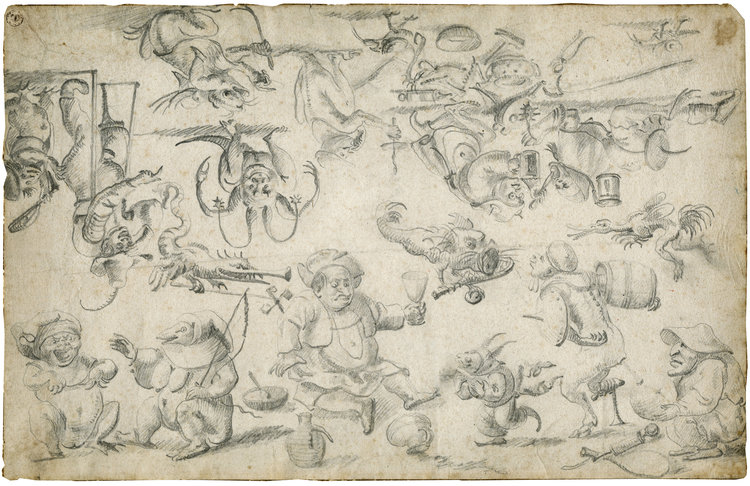 Described as a "reception" of Bosch, this Study of Monsters and Grotesques depicts all manner of marvelous creatures illustrating the influence of the Dutch master into the seventeenth century.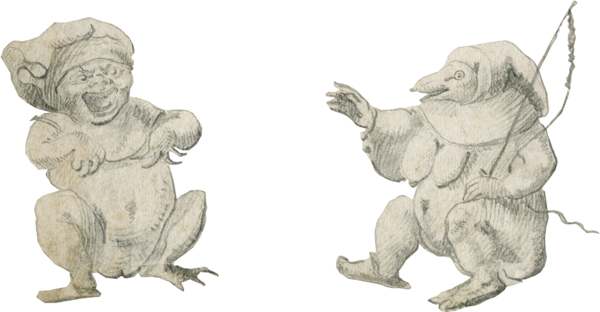 Several manuscripts containing substantial numbers of drawings are included, for this is a medium that helps to round out the history of drawings in the Renaissance and is often ignored.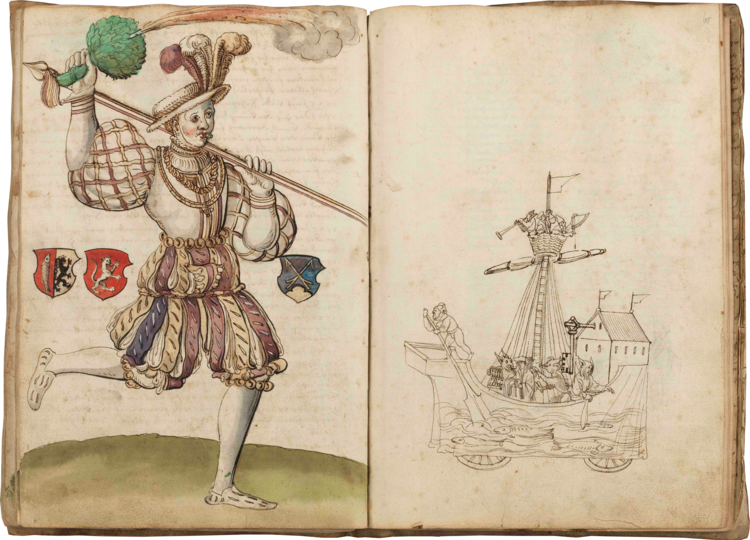 The Schembart Carnival Book displays the extravagant costume worn during the Schembartlauf, a carnival parade held in Nuremberg, from 1449 to 1539 with controlled penwork and bold watercolor washes. The smaller drawings depict floats that accompanied the pageants from 1479 onward.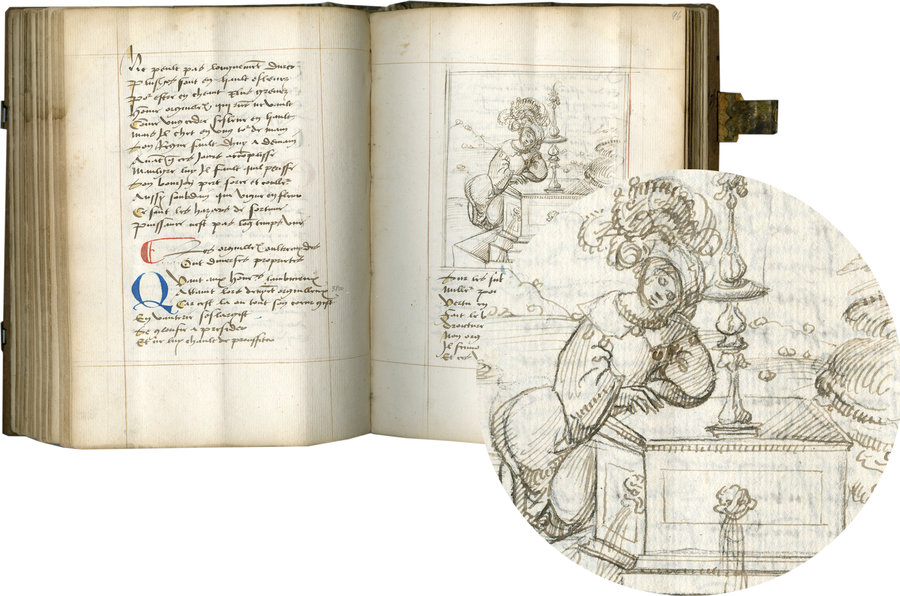 This depiction of Narcissus admiring his reflection in a fountain is one of twenty rare sixteenth century French drawings that illustrate this manuscript copy of Guillaume Alexis verse translation of On the Misery of the Human Condition.
A complete book is concealed within the astonishing and very rare micrographic drawing by Pierre Mignard made entirely from microscopic letters, illuminating the intersection of art and optics at the end of the seventeenth century.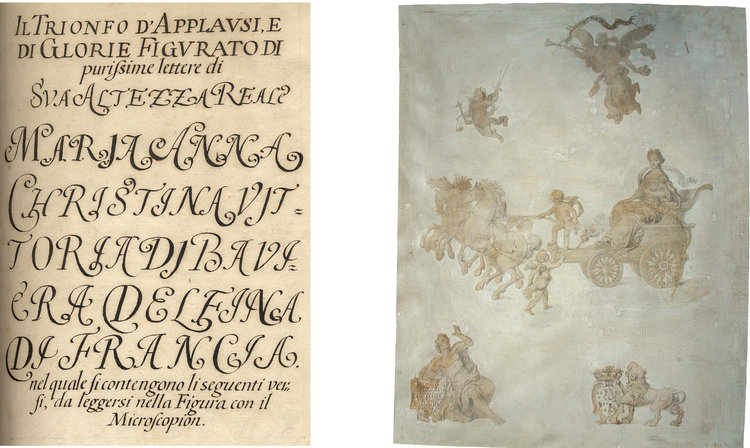 Title page for Ignacio Muligin's long poem in honor of Marie Anne Christine of Bavaria and accompanying micrographic drawing by Pierre Mignard (?), TM 16, France, c. 1683-84
Through the variety of their techniques and the multiplicity of their functions, these drawings offer a brief account of the history of drawings in the Renaissance and beyond.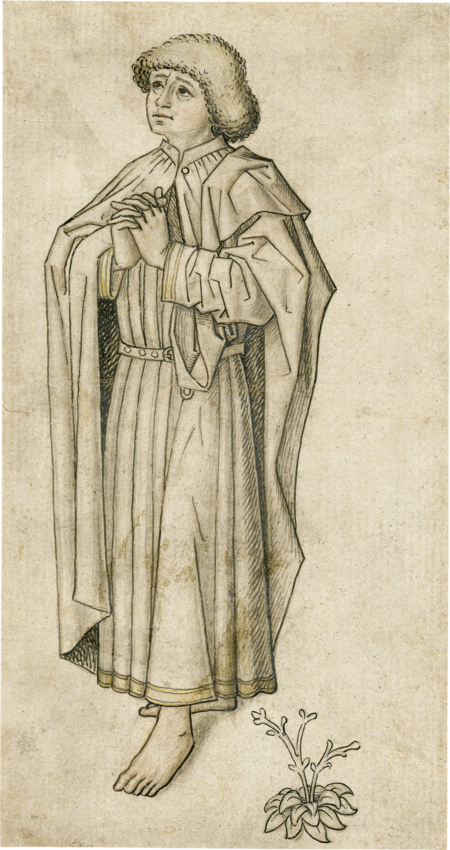 This delicate drawing of St. John the Evangelist, accented with washes of grey, ochre, and red, is likely a copy-drawing of a lost engraving of the Crucifixion by the copper engraver known as the Master of E.S.
Old Master Drawings 1465 to 1670 is on view in New York until Saturday, February 25.
You can now receive periodic blog post updates by submitting your email up above in "Follow Us."