New York is a city for everyone – with events to match – "Restaurant Week," "Fashion Week," "Fleet Week" (immortalized in that "Sex and the City" episode,) and coming up very soon, "Bibliography Week."

I'm sure many of the readers of this blog – librarians, book collectors, scholars, and booksellers – are even now packing their bags. But really, anyone interested in the history of the book writ large should know about it. "Bibliography Week" happens each year at the end of January, this year January 22-27, when the principal national organizations devoted to the art and history of the book (the Grolier Club, the Bibliographical Society of America, and the American Printing History Association) have their annual meetings. Other groups, including Booklyn, the Antiquarian Booksellers Association of America, and the Center for Book Arts, plan events as well. Most of the events are open to everyone, and are wonderful opportunities to learn and, yes, to socialize. The Grolier Club acts as unofficial schedule keeper for these events (you can find a list of some of this year's events on their website.)
At Les Enluminures we are definitely looking forward to Bib Week. On Thursday, January 25, we are participating in the Booksellers' Showcase sponsored by the ABAA, held from 10 AM to 4 PM at the Alliance Française – directly across the street from the Grolier Club. Please stop by our table and say hello.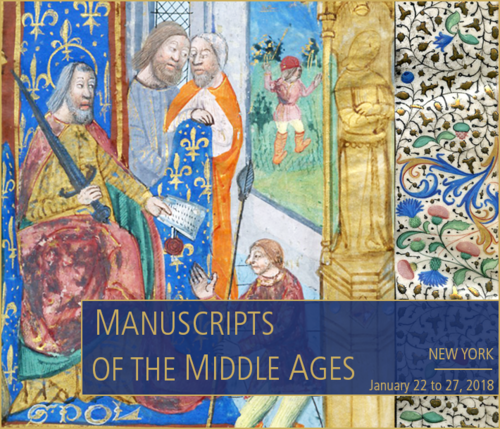 And we are having an exhibition in our New York gallery called simply "Manuscripts of the Middle Age," click here for details and a list of the manuscripts. Come and see examples of the wide variety of different types of books copied in the Middle Ages and the Renaissance (Books of Hours, portable Bibles, liturgical books for public worship, legal texts, histories, school books, and documents).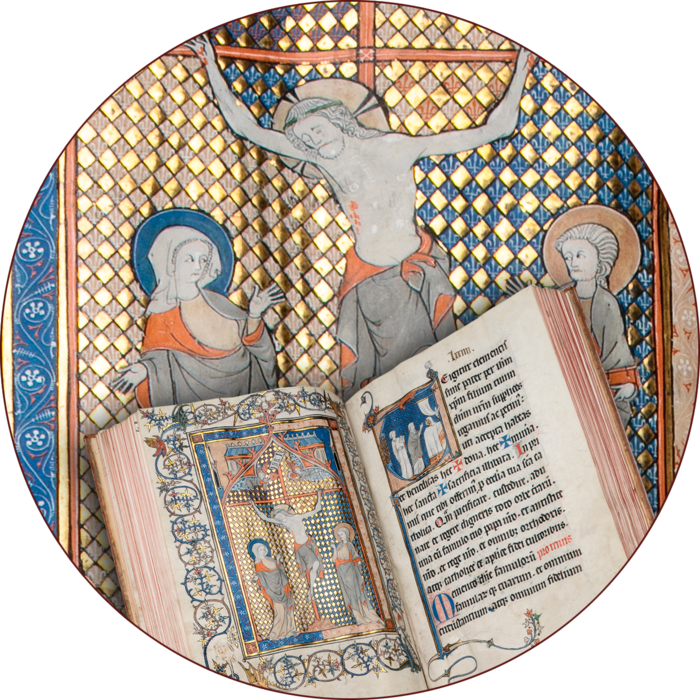 The paintings in this beautiful liturgical manuscript were made at the peak of Gothic illumination in France; "Soissons Missal," Diocese of Soissons, c. 1250-1275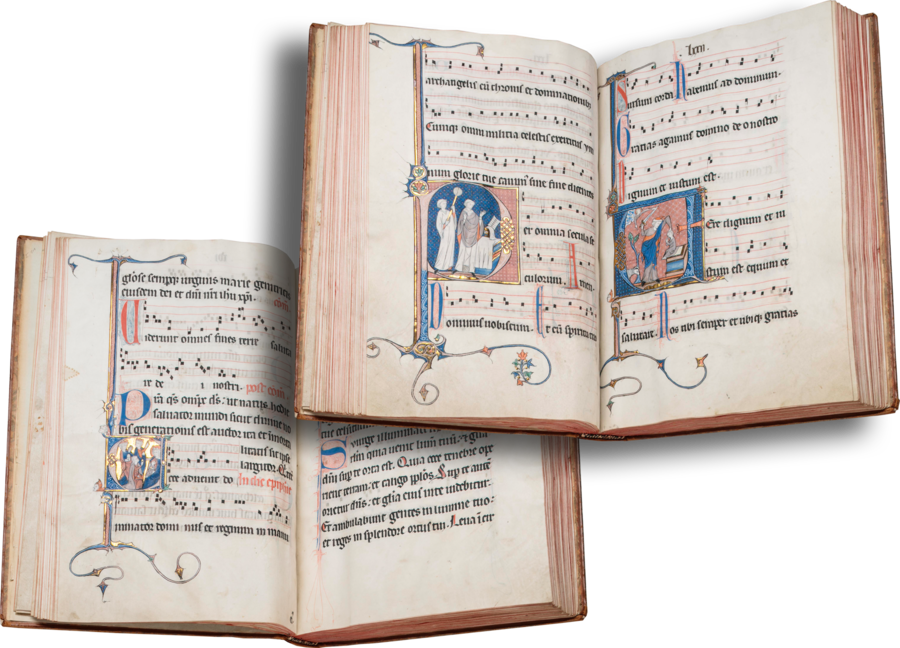 The exhibition also showcases manuscripts showing signs of use and change, significant bindings, and recent additions to our inventory.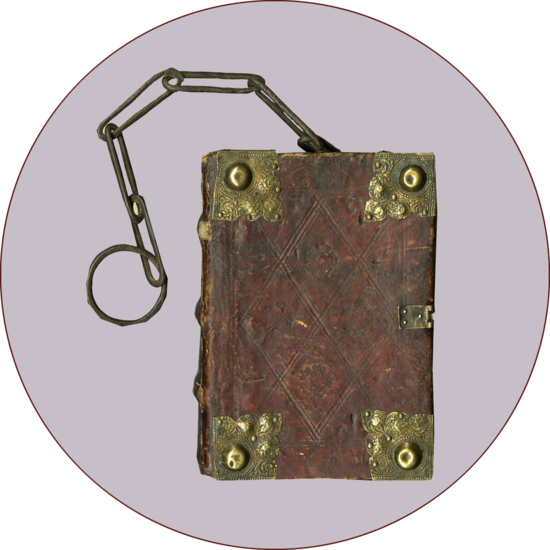 Fifteenth-Century Chained Binding; Sermons by Conrad Holtnicker of Saxony and other authors, Austria (Vienna?) or Southern Germany, c. 1275-1300, TM 767
One of the highlights of the week this year is the seminar on Wednesday, January 24, at the Grolier Club, "Loving Books/Leaving Books: Disposition of Private Collections." (Attendance is limited, and it may be fully subscribed, so please check with the Grolier Club if you are interested in attending). This is a great topic, and it has us thinking about the many collectors and institutions who have owned the manuscripts in our exhibition down through the ages.
Here are a few examples. This elegant manuscript is a legal commentary composed for, and dedicated to, Giovanni II Bentivoglio, the ruler of Bologna from 1463-1506.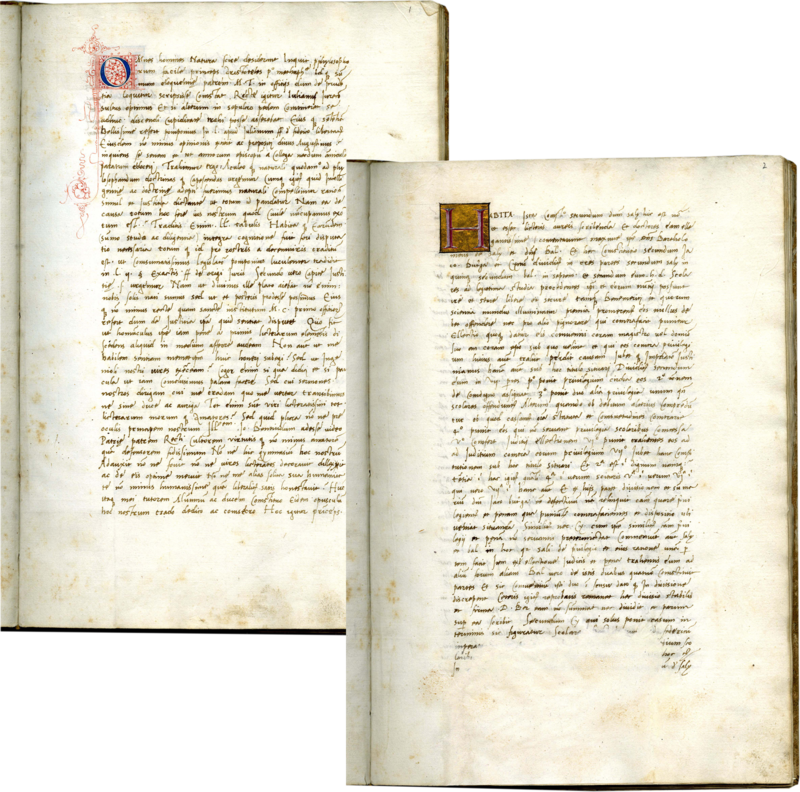 Legal Commentary dedicated to Giovanni II Bentivoglio, TM 409, Bartolomeus Bologninus, Commentary on the Imperial Constitution 'Authentica Habita' (1154-1155), Italy, Bologna, dated 12 January 1492.
Like other princely families of Renaissance Italy, the Bentivoglios were important patrons of the arts, and played a key role in supporting scribes and illuminators.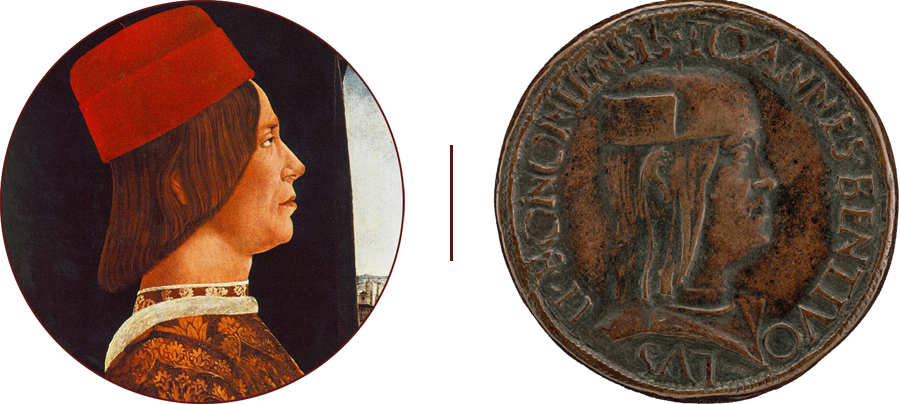 Portrait of Giovanni II Bentivoglio, c. 1480, by Ercole de' Roberti. Bronze medal of Giovanni II Bentivoglio, Francesco Francia (attributed to), National Gallery of Art, Samuel H. Kress Collection, 1957.14.777.a
Giovanni II Bentivoglio also owned a Book of Hours, illuminated in Bologna.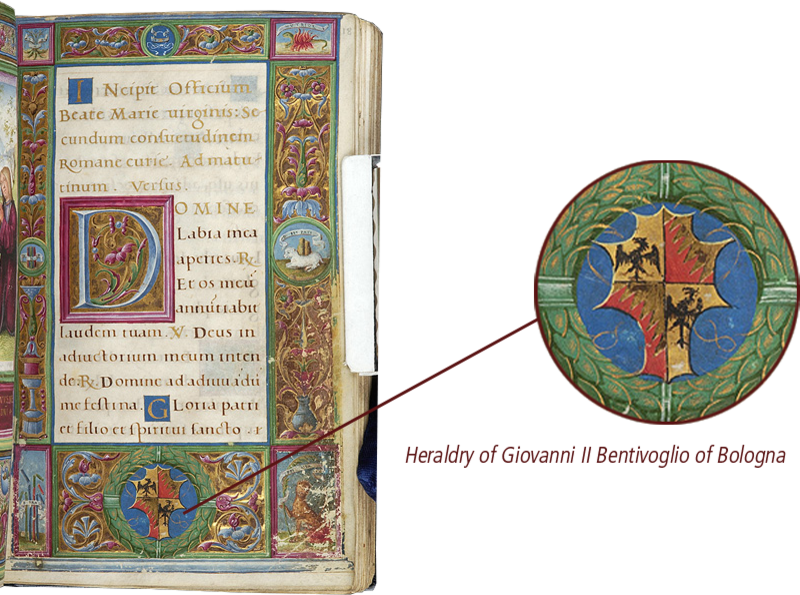 Book of Hours, Italy, Bologna, 1497; New York, Morgan Library, MS M.53 fol. 18
And the Bentivoglio family owned a wonderful Bible with these fabulous images of St. Francis in the lower margin (on the right he is preaching to the birds); they were probably not this book's original owners, but owned it by the fifteenth century.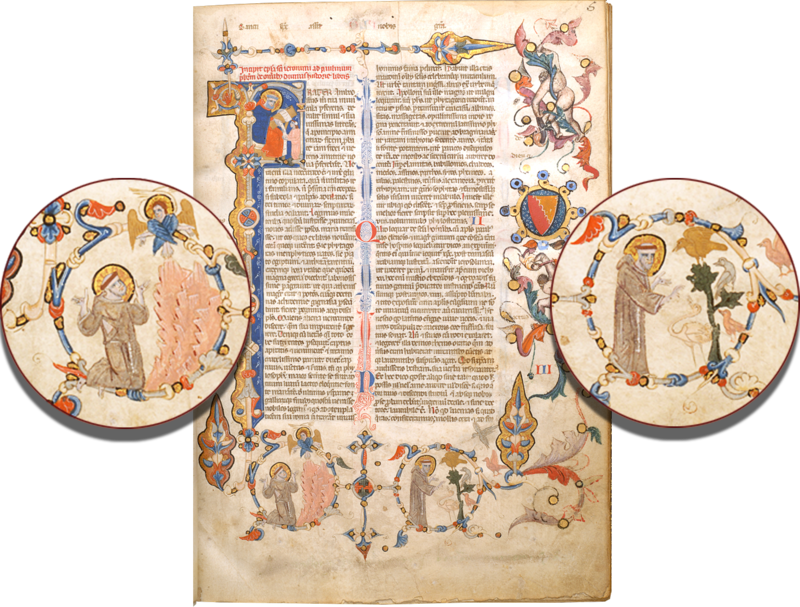 Bible, Italy (Bologna), c. 1270; Baltimore, Walters Art Gallery, MS W.151
The Soissons Missal, just mentioned, was owned by Prince Charles-Joseph de Ligne (1734-1814), bibliophile, diplomat, field marshal of Catherine the Great of Russia, and correspondent of Voltaire, Rousseau, and Goethe.
Prince Charles-Joseph de Ligne
More recently in its history it was owned by the American collectors Elizabeth and James Ferrell, and was on long-termed deposit at the Getty Museum in Los Angeles.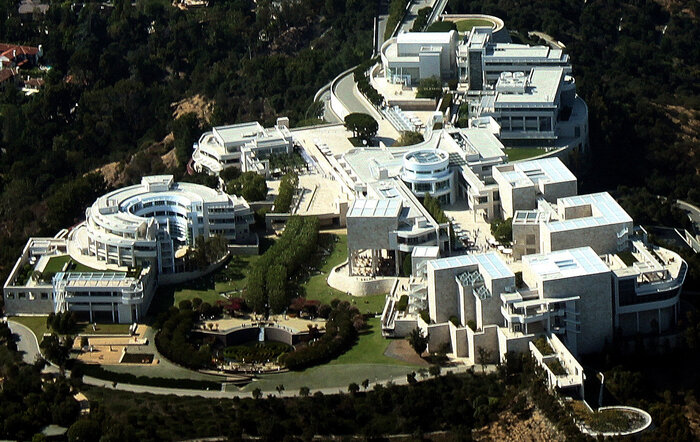 J. Paul Getty Museum, Los Angeles
The beautifully illuminated copy of a ninth-century biblical commentary by Haimo of Auxerre, belonged to another famous collector (and may have been commissioned by him), Jean II Budé, the father the famous humanist-bibliophile Guillaume Budé (and of many other children; according to some accounts he had 18 children!). He was a book collector with an eye for lavish illuminated works, but clearly a personal preference for studious and theological texts.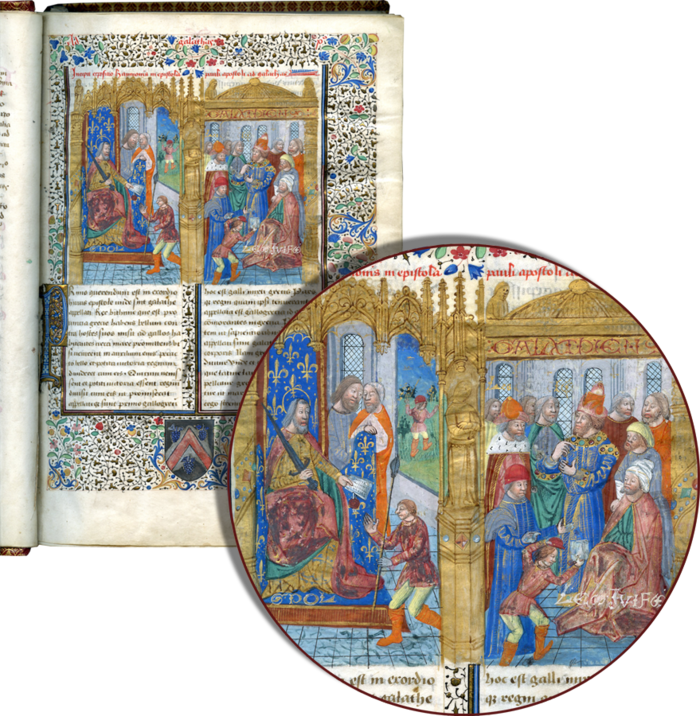 The illuminated frontispiece was added c. 1500 to a manuscript owned by Jean II Budé; Haimo of Auxerre, Commentary on the Pauline Epistles, France (Paris), c. 1460-1480 (before 1481), TM 908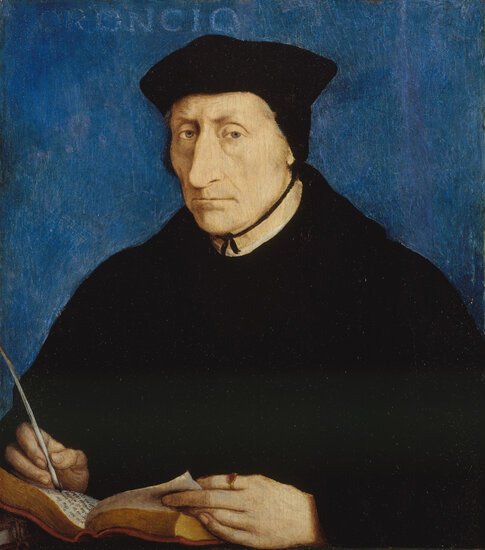 Jean II Budé's son, Guillaume Budé was librarian to Francis I and the leading humanist of sixteenth-century France; Guillaume Budé (1467–1540) by Jean Clouet, c. 1536, New York, Metropolitan Museum of Art
Later in its history this manuscript was owned by one of the most remarkable collectors of the nineteenth century, Bertram Ashburnham, 4th Earl of Ashburnham (1797-1878), who owned more than 4000 manuscripts. (An impressive collection, although not quite in the league of that other famous collector, Sir Thomas Phillipps, discussed in our earlier blog, "The Popess and the Vellomaniac").
The Earl of Ashburnham acquired this manuscript, not without controversy, from the collection of Joseph Barrois (c. 1785-1855), the learned, but crooked bibliophile, who became fatally involved with the notorious and unpunished book thief Count Guglielmo Libri. (The subject of a recent exhibition and catalogue at the Grolier Club, Jeremy Norman, Scientist, Scholar, and Soundrel. A Bibliographical Investigation of the Life and Exploits of Count Guglielmo Libri, Mathematician, Journalist, Patriot, Historian of Science, Paleographer, Book Collector, Bibliographer, Antiquarian Bookseller, Forger, and Book Thief, New York, 2013.)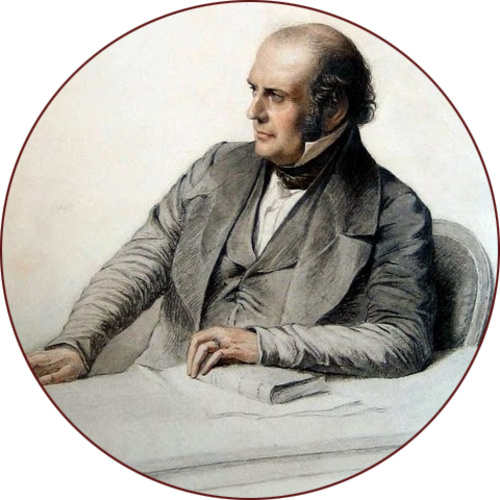 Guglielmo Libri Carucci dalla Sommaja, Italian count, mathematician and notorious book thief
The organizers of the Grolier club seminar ask, "At some point in their collecting careers all bibliophiles must decide how to dispose of their collections. The options are many, and complicated. Pass the collection on to spouse, children, or other family? Establish a book-focused foundation? Donate to an institution for sale, or use? Sell at auction or to a dealer?" These are questions that concern collectors, librarians, and institutions today, but they are not entirely new. Studying the provenance of medieval manuscripts illustrate the choices collectors and institutions have made in the past, and the consequences of these decisions.
If you are interested in provenance history, we recommend you check out Peter Kidd's blog, "Medieval Manuscripts Provenance".
You can now receive periodic blog post updates by submitting your email up above in "Follow Us."