We're guessing love is on your mind right now, whether it be a many-splendored thing or full of anxious fear (or both!). Whether you are celebrating your love for your family,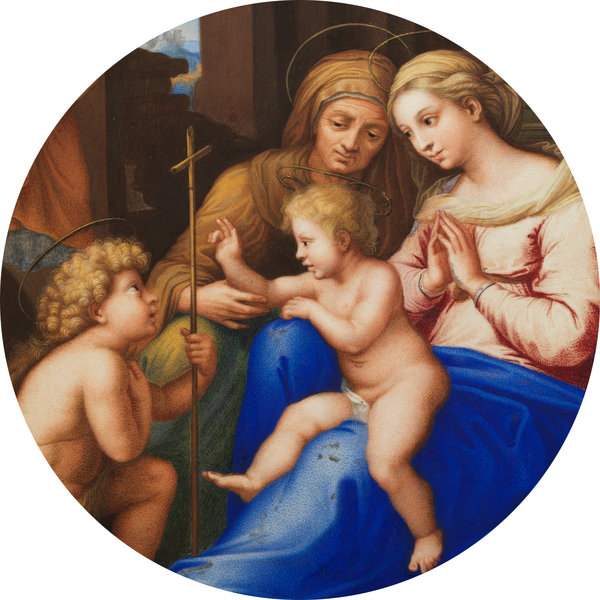 Based on an oil painting by Giovanni Francesco Penni, Giulio Clovio's superb miniature renders the Holy Family in loving detail, Holy Family or "Madonna del divino amore," Italy, Rome, c. 1560 (detail)
your friends,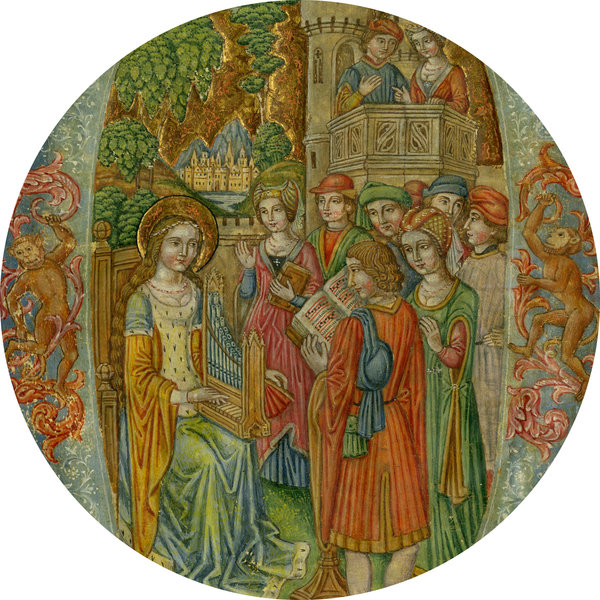 Elegant men and women mingle and listen to music in a verdant garden beside a castle in this twentieth-century miniature, painted by the Spanish Forger, one of the most skillful forgers of all time, St. Cecilia Playing Music in a Courtly Gathering, France, probably Paris, perhaps after 1925 (detail)
your beloved,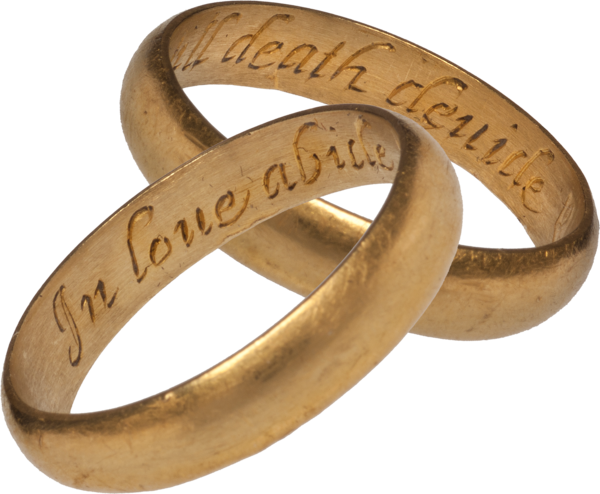 The short verse, or posy, "In love abide till death deuide" has been engraved on the inside of this Elizabethan gold ring, pressed against the wearer's skin and concealed from the world, England, 17th century
or even yourself,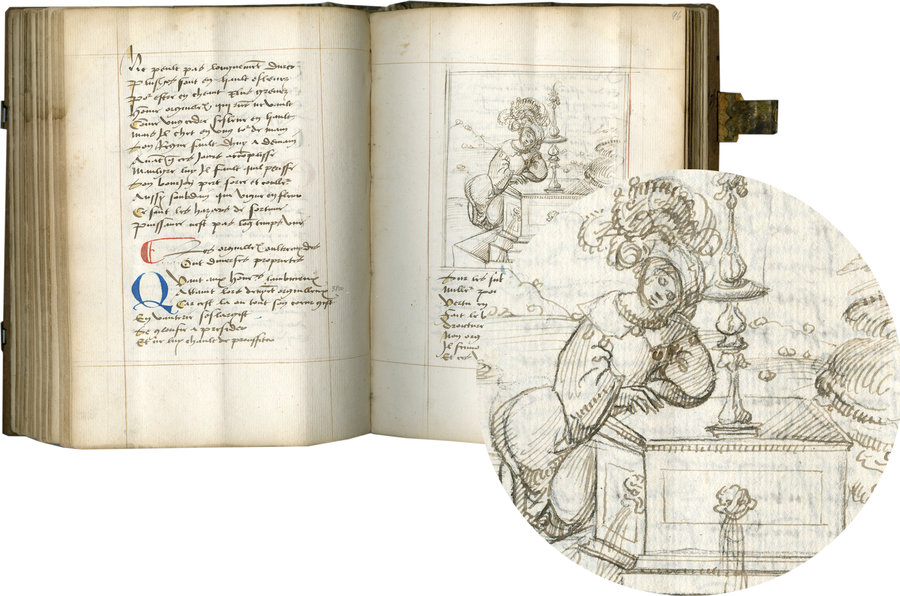 Narcissus gazes at his reflection in this drawing, modeled on a woodcut by Antoine Vérard, in this copy of Guillaume Alexis, Le Passe-temps de tout homme et toute femme and L'ABC des doubles, France, Normandy, Rouen?, c. 1525-1530, ff. 95v-96 (detail)
we wish all of our readers a Happy Valentine's Day! And whatever your feelings on love or romance at the moment, this manuscript has something for you.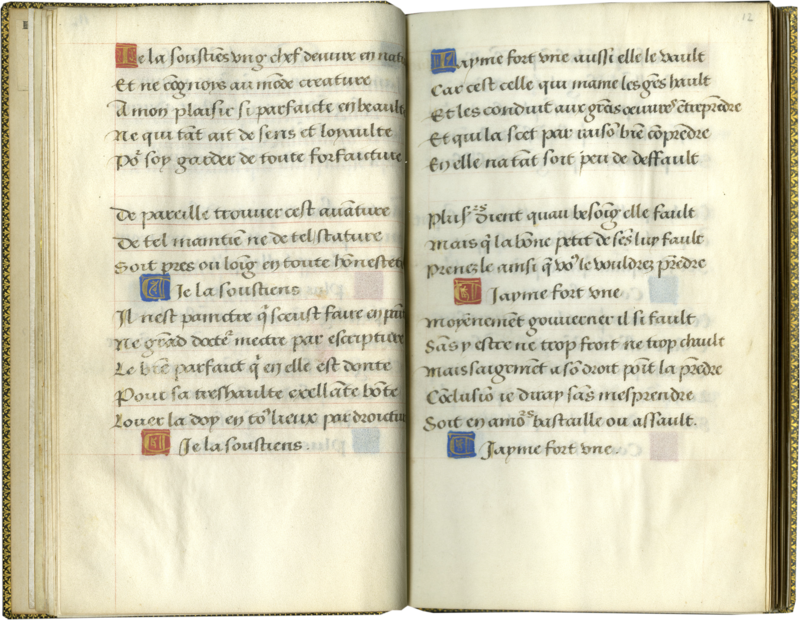 Fine calligraphy and shining illumination grace this beautiful book of French rondeaux, TM 860, France (Paris?), c. 1500-1515(?), ff. 11v-12
An intimate volume of courtly love poetry, it is closely connected to the splendid French court of King Louis XII and Anne of Brittany, who presided over a period of artistic flourishing in Renaissance France. The marital union of Louis and Anne was itself the subject of exuberant literary imagining. Court poets, among them Jean d'Auton and Jean Lemaire de Belges, wrote a series of poetic epistles ostensibly sent to and from Louis during a military campaign in Italy, including letters to and from his wife, Anne (as well as a letter from Hector of Troy!).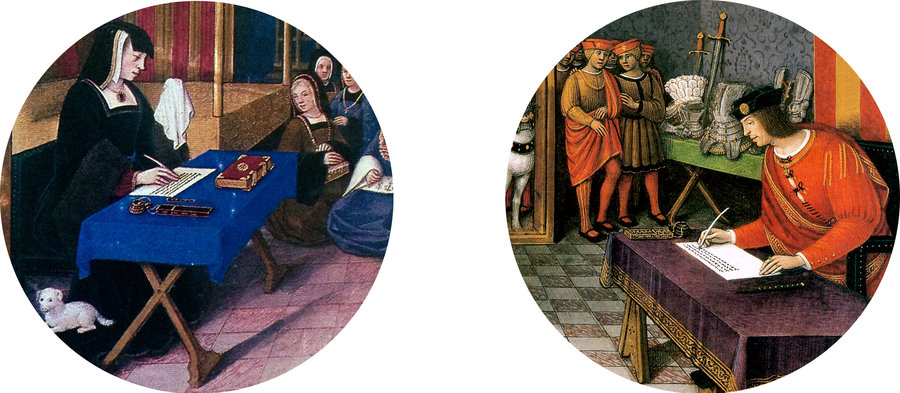 Anne of Brittany writes to her husband, Louis XII, as she mourns his absence, and he writes back to her in these two miniatures, painted by Jean Bourdichon, from a presentation copy of the Epîtres de poètes royaux, St. Petersburg, National Library of Russia, MS Fr. F. v. XIV, 8, c. 1510, ff. 1v (detail) and 51v (detail)
Many of the poems in the present volume were also penned by poets of this court. In fact, one was the work of the same Jean d'Auton behind some of the aforementioned poetic epistles (Hector's included). The poets who wrote the love poems here were largely part of a literary circle known as the Grand Rhétoriqueurs, known for their rich word play and experimentation with sound.
Two different kinds of rondeau are on display in this opening from TM 860, ff. 14v-15
The poems here run an emotional gamut from hope to adulation to despair. All rondeaux, short poems in a fixed verse form, these poems encapsulate different experiences of love pursued, enjoyed, and lost. One extolls the perfections of the beloved – "I hold her a masterpiece of nature / And know no being in the world / To my pleasure so perfect in beauty ..." – while another laments the transience of affection – "... A woman's heart transforms and takes its course / Like the moon in its waning ...". Others proclaim total devotion to a new beloved, brimming with anticipation of both carnal and emotional varieties.

Detail from TM 860, f. 12
Was this given as a love token? Presented to an aristocratic patron? A bit of sophisticated fun between poets? What we certainly know is that this beautiful little book was made to be perused within a very small circle of readers at court – and that it was intended to please and delight. We hope that it will soon find new readers to admire its shining pages and to fall in love with its vibrant poetry.
If you're in southern California this weekend, you can see this manuscript (and many others) in person at our booth at the California Antiquarian Book Fair. Stop by and say hello! If not, you can read more about it here.