It can be hard to find the right gift for your adult siblings, especially if they have lots of money, good jobs, and don't really need anything.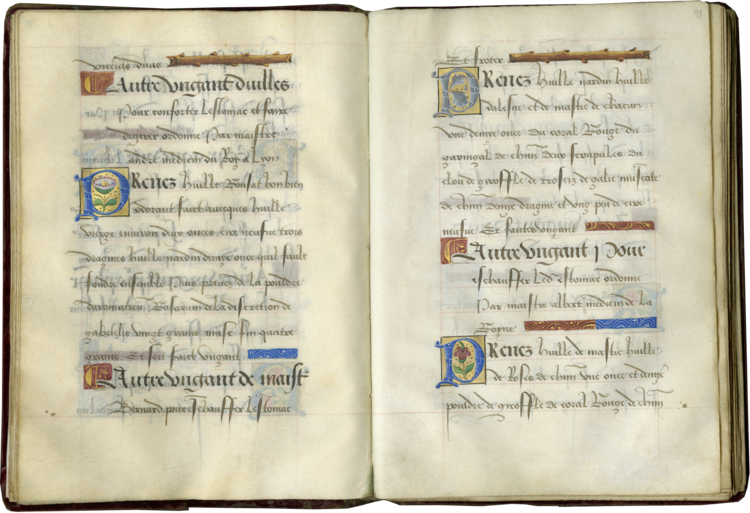 TM 937, Collection of Medical Recipes and Health Regimens, ff. 22v-23
This very lovely manuscript was given by one brother, François II de Rohan (1480-1536), as a gift to his quite exalted elder brother, Charles de Rohan-Gié (c. 1478-1528), Lord of Gié, Verger, and Sablé, Count of Guise and Orbec and Viscount of Fronsac. Charles was a close companion of the king, on the battlefield and at Court.
You can see his coat of arms here at the bottom of the first page.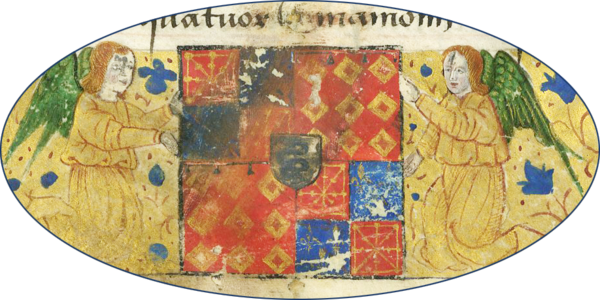 Not surprisingly, given his family, François II de Rohan was an important figure in his own right. He was appointed bishop of Angers at the age of nineteen (in 1499) and was elevated soon after to the archbishopric of Lyon (in 1501). He was also a writer. His translation of Fiore di virtu (Flower of Virtue), an early fourteenth-century Italian collection of moral texts, has survived in a luxuriously illuminated manuscript (Paris, BnF, MS fr. 1877, produced c. 1530), illustrated in Paris by an artist known as the Master of François de Rohan and probably made for presentation to Marguerite de Navarre.
Portrait of François II de Rohan in his manuscript, now Paris, BnF, MS fr. 1877, f. 1
A book always makes an excellent present, and an elegantly written and decorated illuminated manuscript makes an even better one (we talked a little about this in our earlier blog, "Gifts of the Past"). But what makes this an especially good gift are the texts it includes: medical recipes, a health regimen, and a pharmacopoeia of plant-based remedies. (In the modern world we usually think of recipes as instructions for preparing food, in the Middle Ages and well into the early modern era a "recipe" was understood as a how-to instruction of any sort, including, as in this case, medical remedies.) The recipes mention many ailments: constipation, kidney stones, stomach pain, colic, plague, pleurisy, tertian and quartan fevers, and heart failure (to name only a few).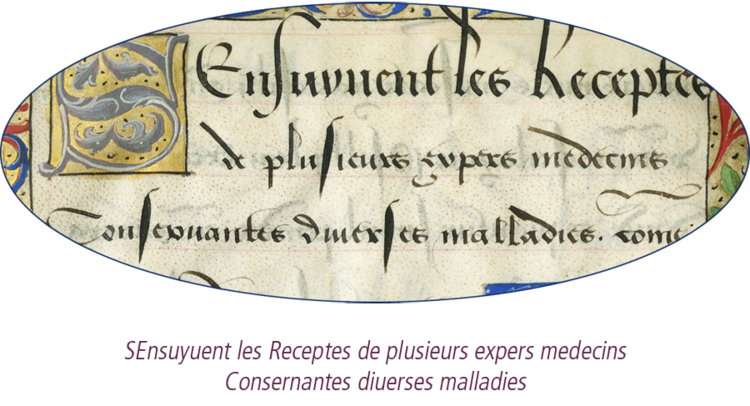 TM 937, Collection of Medical Recipes and Health Regimens, f. 1: the text begins, "Here follow recipes of expert medical physicians concerning diverse maladies
The entire text is in French (a notable point for a time when many academic medical texts were still circulated primarily in Latin), and most of the recipes are from contemporary physicians, rather than traditional sources from the past, including, among many others, François d'Allez and André Briau, doctors for the king of France. Many are ascribed to "Master Bernard," who was almost certainly the Archbishop's own doctor.
This is a personal gift, and it seems to me, a loving one – full of the hope that his brother will enjoy a healthy life.

Motto of Francois II de Rohan, "A sound mind in a healthy body"
This manuscript will be on view in our exhibition , "Talking at the Court, On the Street, In the Bedroom: Vernacular Manuscripts in the Middle Ages," at our New York Gallery through March 16. If you are in New York, please visit us.
And it is one of the thirty-six manuscripts in the illustrated catalogue that accompanies the exhibition, Shared Language: Vernacular Manuscripts in the Middle Ages, text by Laura Light, introduction by Christopher de Hamel, with essays by Dennis Dutschke, Stephen Mossman, Emily Runde, John Van Engen, and Mary Beth Winn.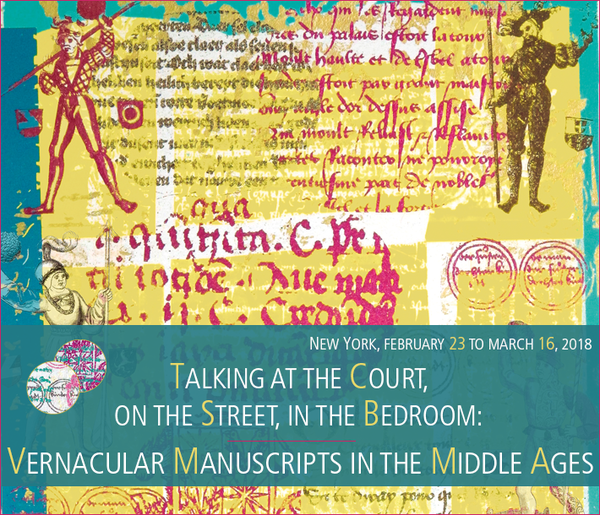 Highlights from the exhibition will also be on view at the New York Antiquarian Book Fair from March 8-11, with other manuscripts from our current inventory (including no less than three medieval scrolls).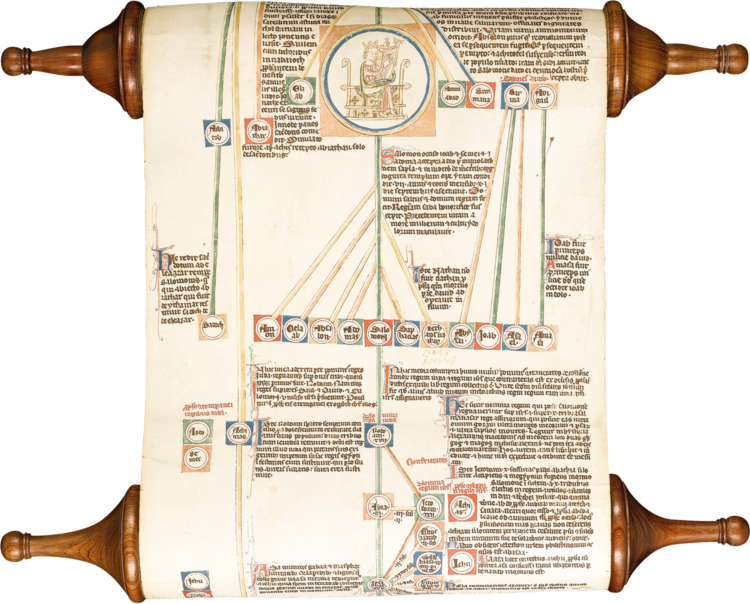 Les Enluminures, Illustrated Genealogy of Christ by Peter of Poitiers, Compendium historiae in genealogia Christi, England, Oxford?, c. 1230-1250
And speaking of medieval scrolls, "Now and Forever: The Art of Medieval Time," currently on view at the Morgan Library and Museum and New York, has much to say on history and concepts of time in the Middle Ages (and includes three beautifully displayed historical scrolls). Highly recommended!
You can now receive periodic blog post updates by submitting your email up above in "Follow Us."