News flash! Eighteen "new" manuscripts were added to our text manuscripts site last Thursday, (March 16.) We shared this news as widely as we could, but we wanted to announce it here as well, just in case.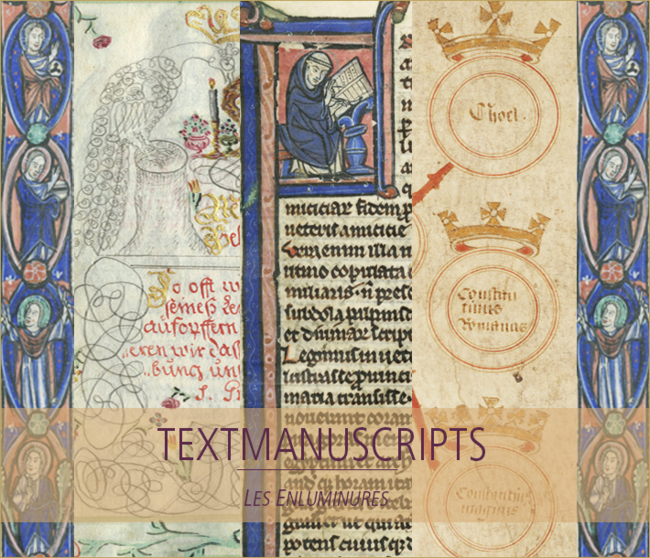 For the bi-annual update of www.textmanuscripts.com, we offer many rare and interesting items at prices from $5,500 to over $200,000. These include manuscripts from across Europe (England, France, Italy, Spain, Serbia), dating from the thirteenth to the eighteenth century, including texts related to many topics: liturgy, canon law, spirituality, history, genealogy, and others
We update the Text Manuscripts site twice a year; our largest update is in September, followed by a second update, which has traditionally been in January – this year we moved it to March to coincide with the New York Antiquarian Book Fair.
A few highlights: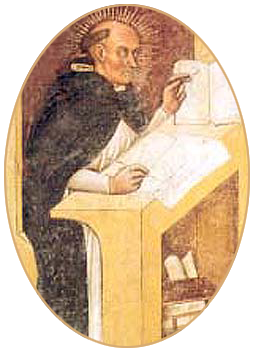 Raymond of Penafort by Tommaso da Modena
A thirteenth-century copy of a penitential manual by Raymond of Penafort, the patron saint of lawyers;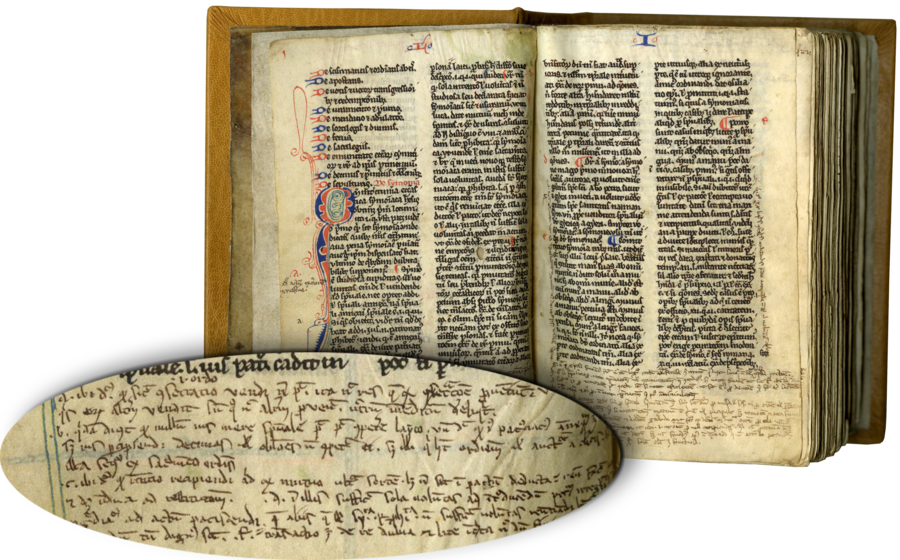 Marginal notes (carefully tied to the text with reference letters) on ff. 2v of TM 736, Raymond of Penafort's bestselling penitential manual.
It is possible that this manuscript was once owned by Guillaume Briçonnet (1445-1514), who was secretary of the treasury under Charles VIII and later Cardinal of Saint-Malo, or one of his family.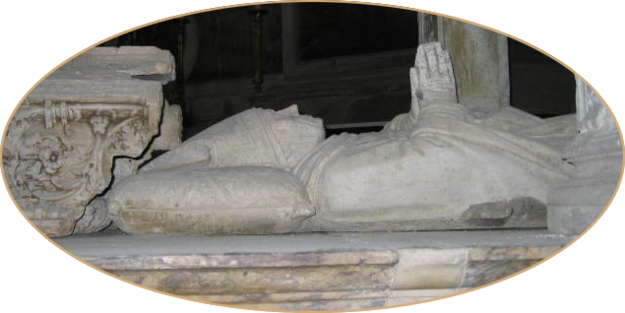 The effigy of Cardinal Briçonnet at Narbonne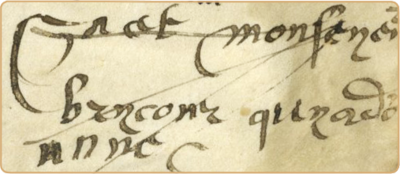 A member of the Briçonnet family signed the last page of TM 736, "monseyeur bryconnet"
And a thirteenth-century "pocket" Bible from Paris (we really should do a blog just on our Bibles – until then, peek at our "Spotlight" on the subject).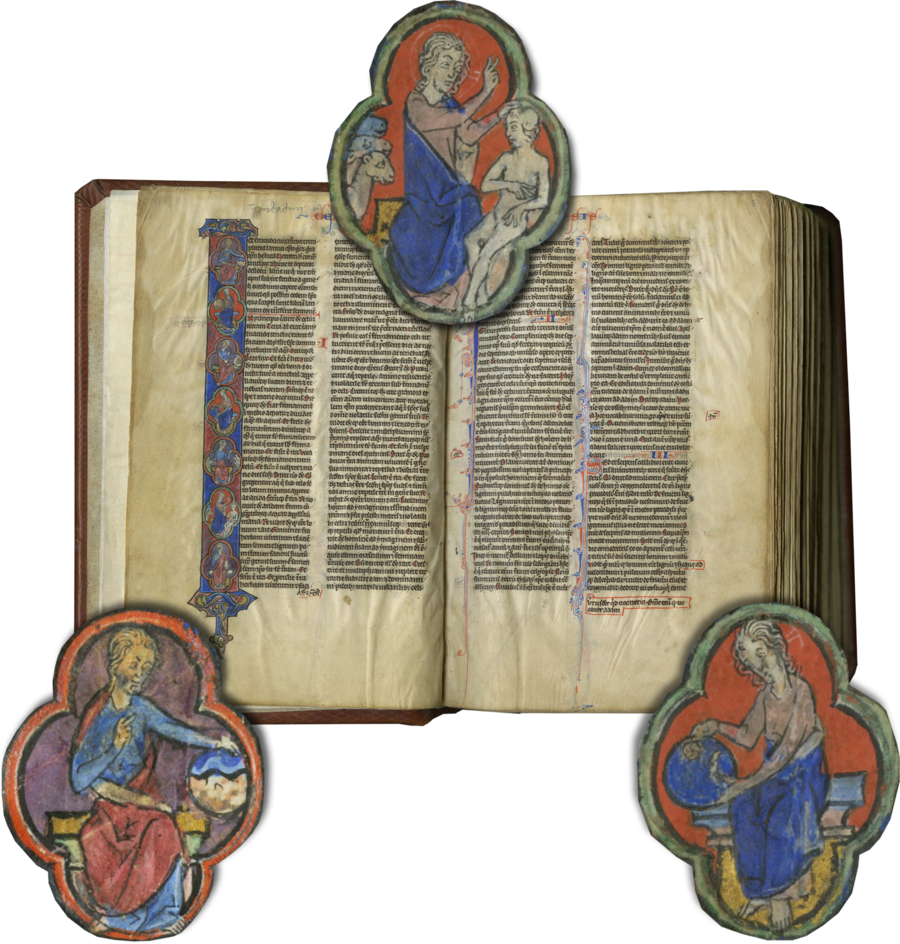 The creation story at the beginning of Genesis in TM 913, f. 4v, Paris, c. 1250-1260
Gregory the Great's life of St. Benedict in the Dialogues is a text many (some?) of you may have read if you took an intro course on European history in college (and if you haven't read it, I highly recommend it – you can find many English versions in print and online, including here on the website of St. John's Abbey, Collegeville, Minnesota).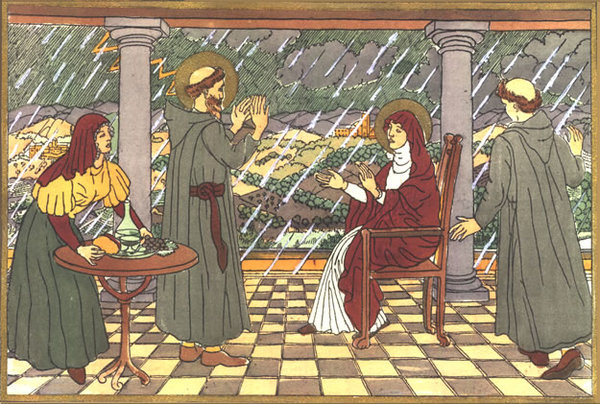 Chapter 33 tells the story of Benedict visiting his sister Scholastica. St. Scholastica did not want him to leave, and her prayers are miraculously answered by a rain storm that forces him to stay the night. Gregory wisely concludes, "Therefore, as is right, she who loved more, did more."
Our fourteenth-century copy is quite small and includes an initial depicting Gregory, and a scribe, and an alphabetical subject index.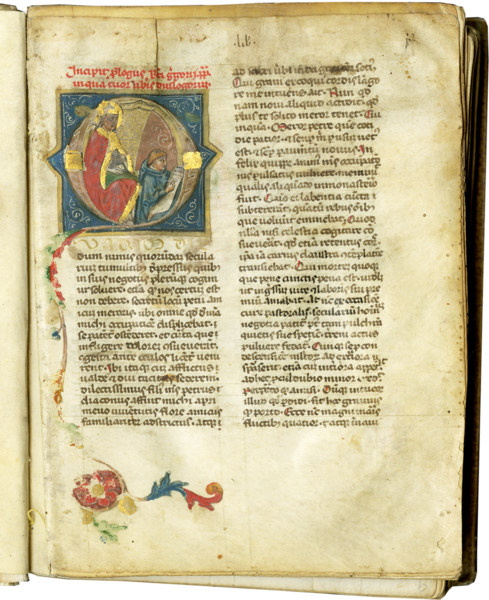 TM 873, Gregory the Great, Dialogues, Central Italy, c. 1320-1330
It would be easy for me to mention each of our new manuscripts and find something to say about them (which would of course defeat the idea of "highlights").
Here is one more, which will leave some of you breathless with amazement, and the rest of you, I would think, intrigued.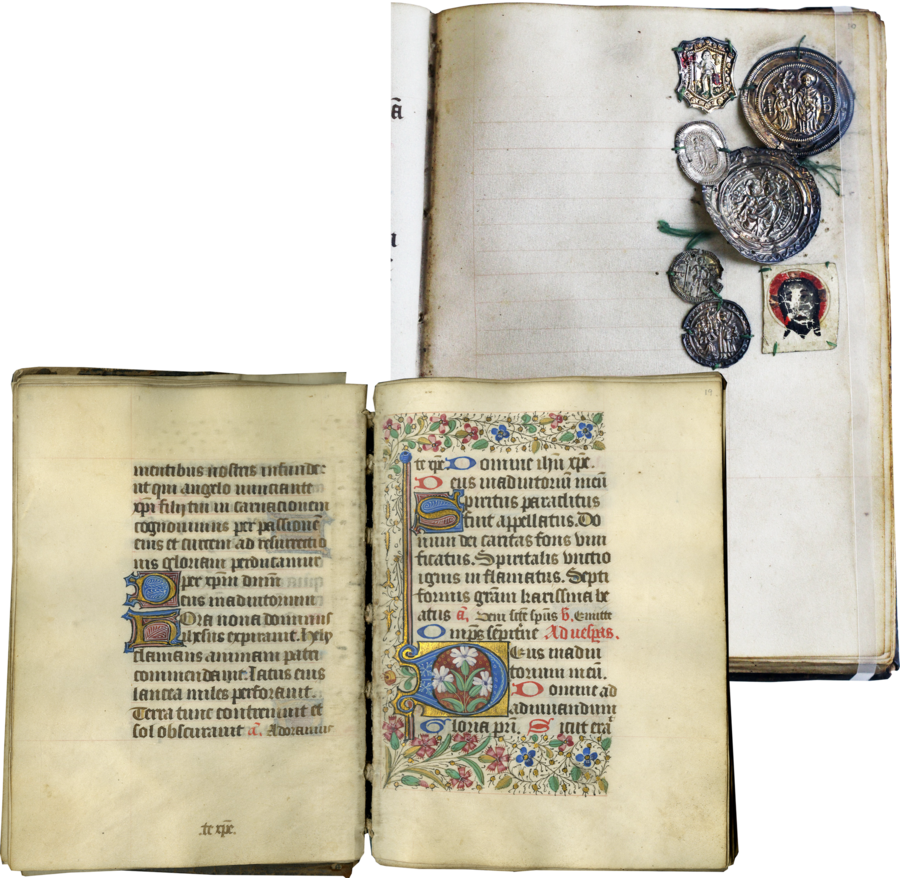 TM 922, Book of Hours (use of Angers), c. 1450-1475, f. 10, Pilgrims' badges and devotional image, and f.19
Stay tuned; it will be the subject of our next blog post.
Did you know that you can search just for "NEW" inventory on the text manuscripts site? There are two easy ways to do this. On the "manuscript" page, select "more options"; on the far right you will see "inventory" – select "new" and a page will open with the manuscripts we just added to the website.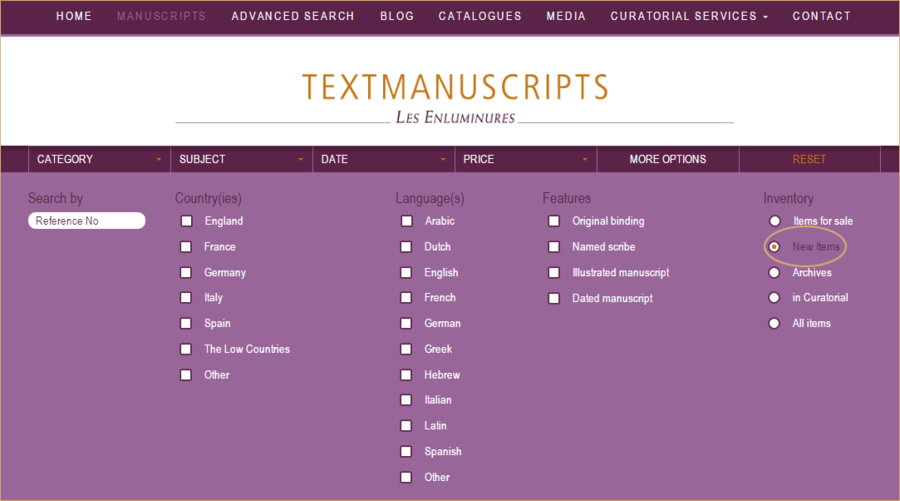 Alternatively, go to "Advanced Search," and at the very bottom of the page you will see "Select inventory," – select "New" from the drop down menu.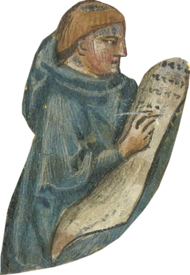 And while you are there, I hope you notice two things. One, there are lots of ways to search our site (by country, language, date, category, subject, and price). And secondly, we keep descriptions and images of our manuscripts online in our archives even after they are sold – to date, 831 manuscripts! – with detailed descriptions and images, a veritable treasure trove of information.
You can now receive periodic blog post updates by submitting your email up above in "Follow Us."