Anyone who has ever handled medieval manuscripts comes away with a sense of how they bring the past alive in a very human way. In all sorts of manners, manuscripts divulge evidence of the people who interacted with them over time, those who touched them and turned their pages, doodled in them and proudly inscribed their names in them, rebound them and even sometimes gave them catalogue numbers for posterity. Perhaps Books of Hours reveal more about their owners than any other type of medieval manuscript.
To some extent this is ironic, for we often think of the Book of Hours as the quintessential luxury manuscript of the late Middle Ages. The most famous of all Books of Hours, the Très Riches Heures of the Duke of Berry is full of pristine paintings created by the celebrated illuminators, the Limbourg Brothers, for a consummate bibliophile.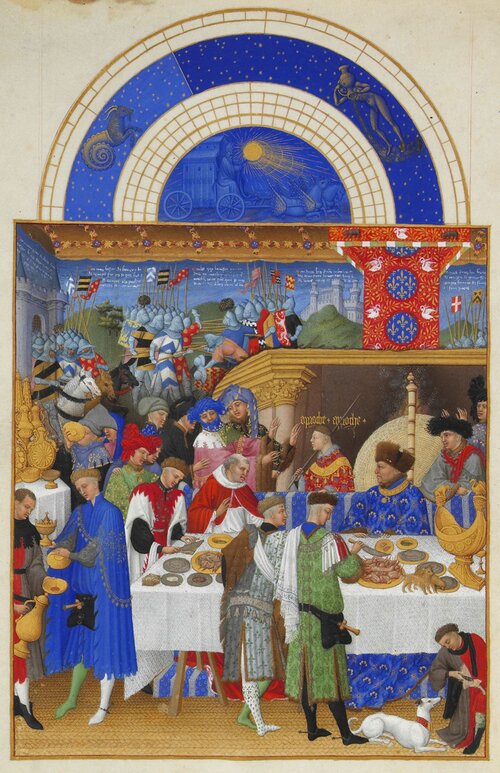 The Très Riches Heures of the Duke of Berry, January.
It bears few signs of the kind of use I am talking about. Yet, nearly every family, even those of much more modest means than the Duke of Berry, owned a Book of Hours, and they often left their traces in them over centuries.
Let's take a close look at one such typical Book of Hours. We do not know who originally ordered it or for what occasion, but we do know it was made in Paris around 1470 to 1480 by artists associated with the ubiquitous style of the Master François (now identified as François le Barbier).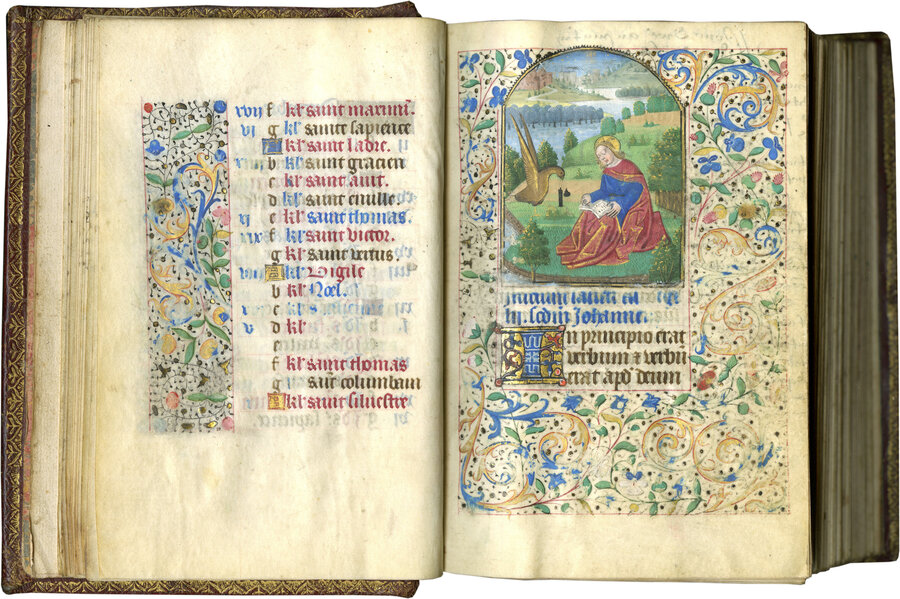 BOH 132, Dulac Hours, France, Paris, c. 1470-1480, ff. 12v-13, Saint John on Patmos
I have called it the Dulac Hours because Antoine (or Antonius) Dulac signed the manuscript in two places.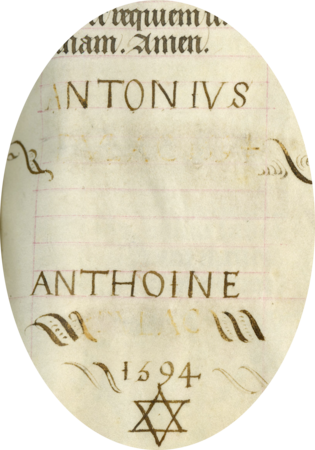 BOH 132, Dulac Hours, France, Paris, c. 1470-1480, f. 34, (detail)
Expressing his devotion, Antoine also wrote his motto three times after his name: Lon tanc a dieu (or in modern French "longtemps a dieu," meaning "for a long time [devoted] to God"). This motto is actually an anagram, for its letters when they are rearranged form his name. The only Antoine Dulac I have found recorded was a physician at the sixteenth-century court of France; perhaps he was then the owner of the book, although he was not its first owner.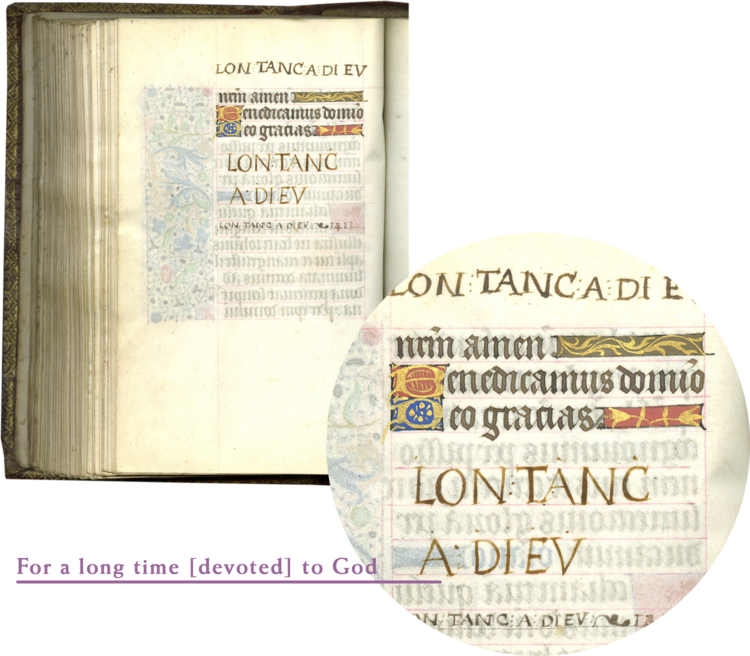 BOH 132, Dulac Hours, France, Paris, c. 1470-1480, f. 128v, (detail)
Antoine treasured his book enough to write his name in it several times, but he (or someone in his immediate or extended family?) also actively used his book for daily devotion. Sixteenth-century cursive writing in the margins of the first thirty folios provides guidelines for additional prayers to be said, in Latin and in French: in the morning upon rising, upon leaving the house, when taking the holy water, when kneeling in front of the crucifix, when the priest turns, when he raises the chalice, and upon taking the pax.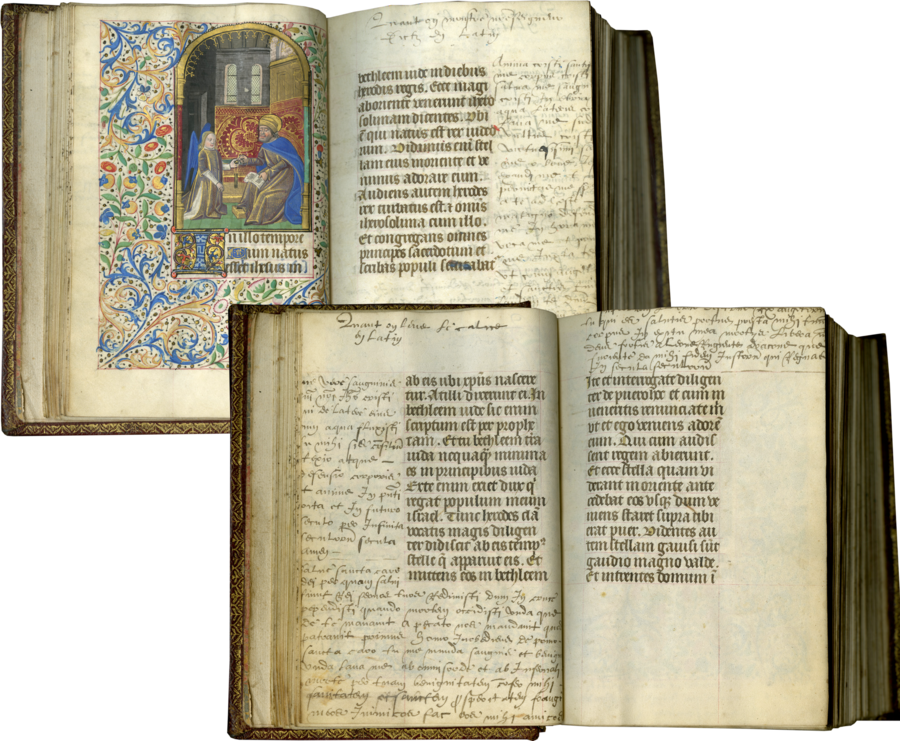 BOH 132, Dulac Hours, France, Paris, c. 1470-1480, ff. 17v-18 and ff. 18v-19
These prayers are interesting for three reasons. First, they indicate that the owner took his Book of Hours to Mass and used it there; since Books of Hours do not typically include prayers for the Mass, he wrote them in by hand. Second, the prayers are to be said in two languages, in the vernacular as well as in Latin, attesting to the increased use of French as a language of religion in Renaissance France. Third, whereas the Latin prayer is fully written out in the margin, only the rubric is supplied in French, suggesting that the owner knew by heart the French version of the prayer. This Book of Hours is truly an archive of prayer, as a recent monograph of Books of Hours has called them (see Virginia Reinburg, French Books of Hours. Making an Archive of Prayer, c. 1400-1600, Cambridge, 2012).
One other alteration to the manuscript is noteworthy. The Annunciation has been repainted to include a later owner – not Antoine but a woman, who kneels in prayer in front of the Virgin Mary.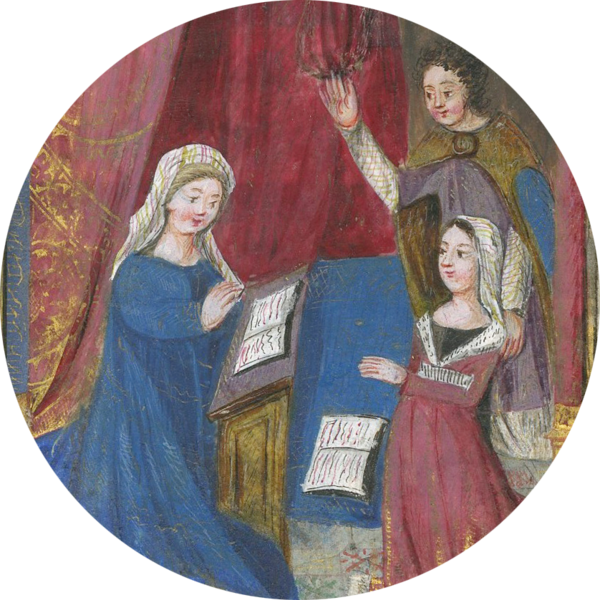 BOH 132, Dulac Hours, France, Paris, c. 1470-1480, f. 36, Patrons Praying before the Virgin, (detail)
The original miniature showed the Virgin Mary before her lectern in prayer, interrupted by the angel Gabriel on the right. Here, the angel Gabriel is transformed into a man in secular dress, who presents a kneeling donor (his wife?) to the Virgin. The style suggests a modification made at least a half century after the original book. Clearly the proud new owner, disappointed with a book containing no personal references, requested this addition to signal her possession.
This is such an interesting example of a Book of Hours. Its extensive illuminations by a notable Parisian workshop make it a good choice for an art-loving bibliophile appreciative of fine paintings.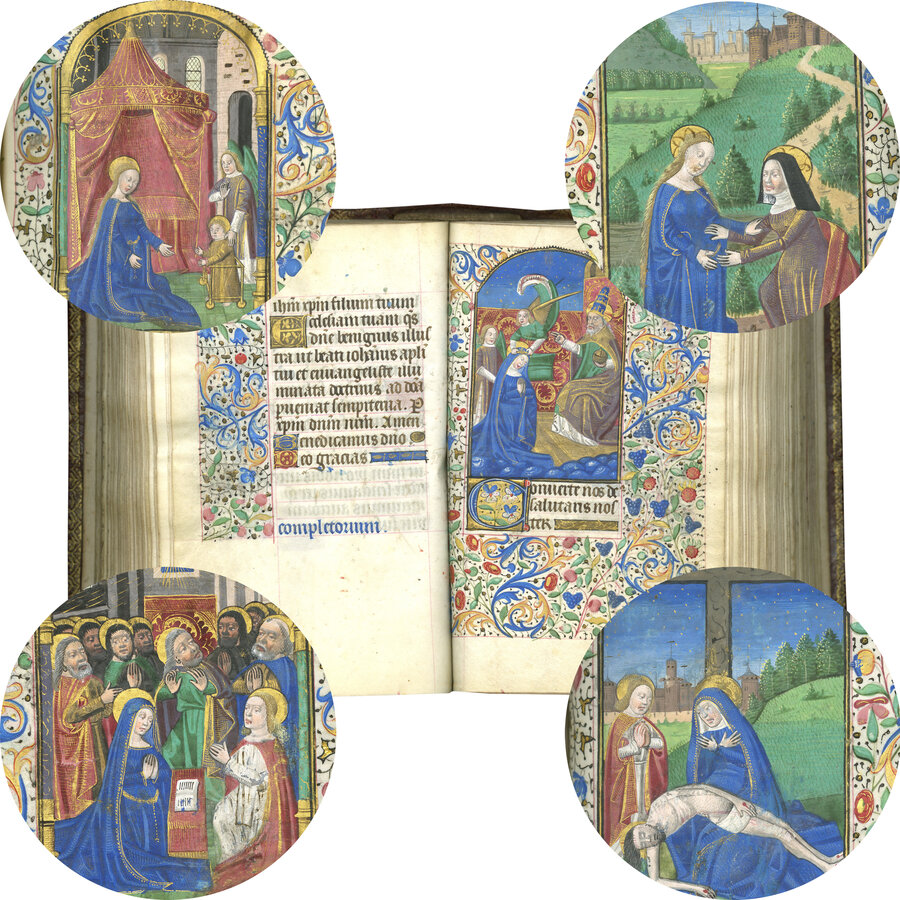 BOH 132, Dulac Hours, France, Paris, c. 1470-1480, ff. 120v-121 (Crowning of the Virgin) and details of f. 23 (Annunciation), f. 69v (Visitation), f. 121 (Crowning of the Virgin), f.162v (Pentecost), f. 237 (Pietà).
Yet, at the same time, its many personal touches, accretions added to text and illustration over at least a century, let us bring to life the different owners and vividly imagine how they used the book over at least a century. Turn the pages of the Dulac Hours here.
Further examples of the physical evidence left behind by the people who made, used, read, and owned manuscripts can be found in our exhibition, Traces: People and the Book , on view in our New York gallery and extended through May 26, 2016. Or you can also explore the show from afar in the exhibition catalogue available for purchase or download on our site.