Well, maybe not that zoo. Les Enluminures is going to the International Congress on Medieval Studies held in Kalamazoo at Western Michigan University every year early in May, often referred to as "the Zoo."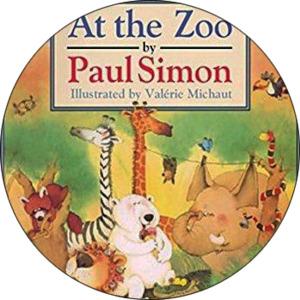 The Congress is huge, really huge, attracting around 3,000 medievalists of all stripes – professors, graduate students, and many other lovers of the Middle Ages and medievalism. There are sessions to attend (552 listed in this year's program), workshops, and performances, as well as plenty of chances to relax and socialize (even a dance)..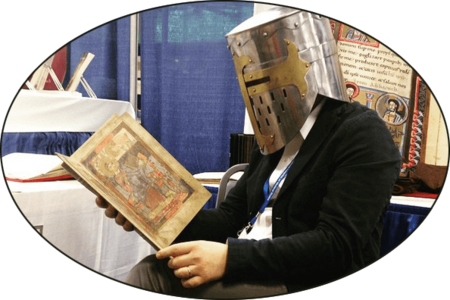 We are excited that Les Enluminures is going to the 'Zoo' this year and is sponsoring a roundtable: "Manuscripts in the Curriculum: New Perspectives on Using Medieval Manuscripts in the Undergraduate Classroom from Special Collection Librarians, Faculty, and Booksellers" (rather a mouthful I know, but descriptive) on Saturday at 1:30 in Fetzer 1010 (session no. 402).
Participants are Cynthia Turner Camp, University of Georgia, Eric J. Johnson, Ohio State University, Jeffrey D. Marshall, University of Vermont, Marianne Hansen, Bryn Mawr College, Maeve Doyle, Eastern Connecticut State University, and Nicholas Herman, Schoenberg Institute of Medieval Studies, University of Pennsylvania.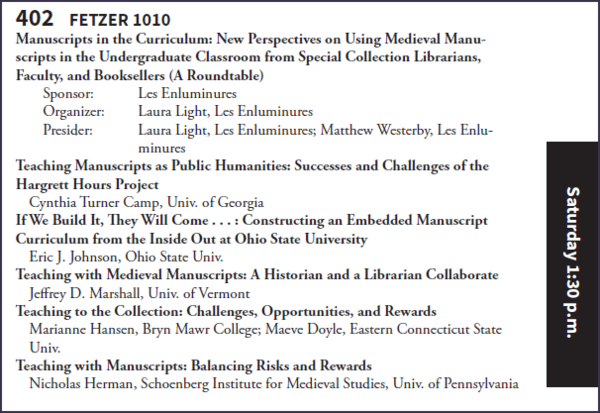 Teaching medieval studies or history of the book with manuscripts is, as they say, a game changer. (And note, I'm talking about the real thing, not digital images of manuscripts or facsimiles). We can't wait to hear the experiences of our panelists, and the discussion that follows. It is a roundtable by design; we hope everyone who attends will participate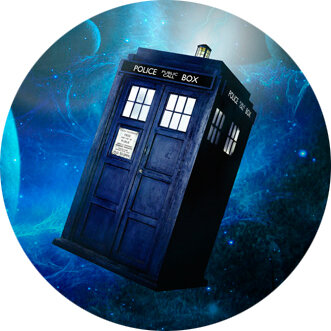 Professor Iain Macleod Higgins, University of Victoria, says manuscripts are like time-travel machines. "The book may be a little object, but you open it up and it takes you to a whole different world."
Did you notice the beginning of our session title? "Manuscripts in the Curriculum," is a new program from Les Enluminures that allows colleges and universities to rent a group of our manuscripts for a semester to use for teaching, and if they like, for exhibitions. We have reached the halfway point of our three-year pilot program. You can read about it here. And yes, once again, we are talking about real manuscripts, not facsimiles – how cool is that?
So far it has been a great success. At the University of Victoria, students in Medieval Studies 452: "Special Topics in Medieval Manuscript Studies: Looking at New Medieval Manuscripts," studied the manuscripts with Professor Helène Cazes of the French Department.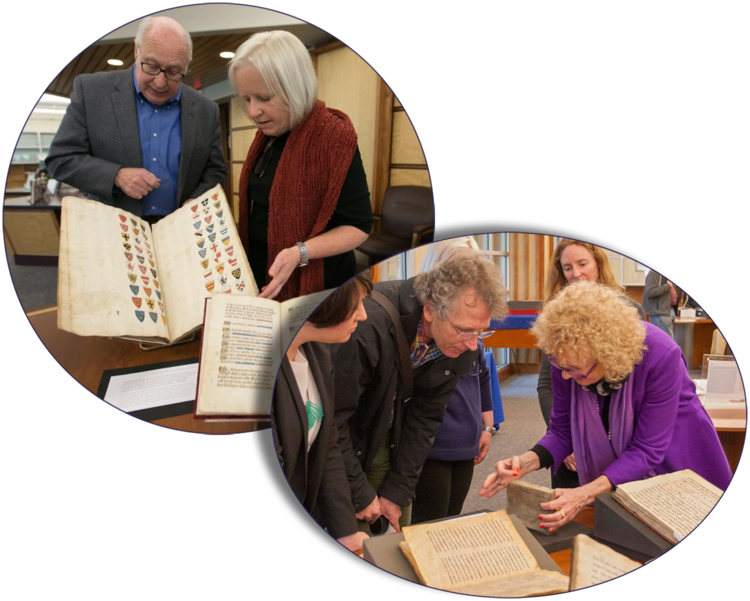 Our Tudor Roll of Arms, TM 627 including a genealogy of the kings and queens of England was the focus of one of the student's papers.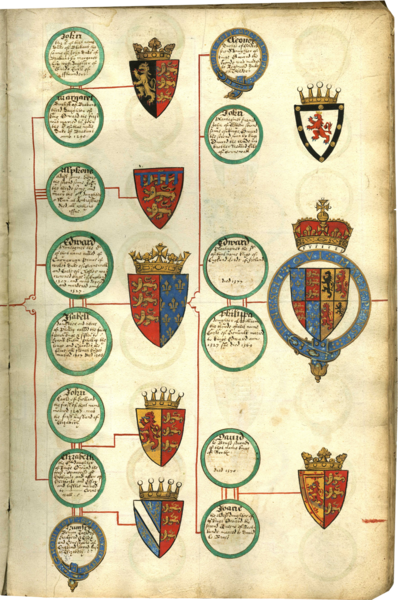 The Genealogie Royall and Lineall Discent of all the Kinges and Queenes of England; followed by other Rolls of Arms, England, necessarily after 1558 but prior to 1603, c. 1590-1600
The manuscripts then travelled to Pepperdine University in Malibu, California, where students in Professor Jennifer Smith's seminar on medieval literature prepared posters presenting aspects of manuscripts from the collection, and then shared their research in a public open house.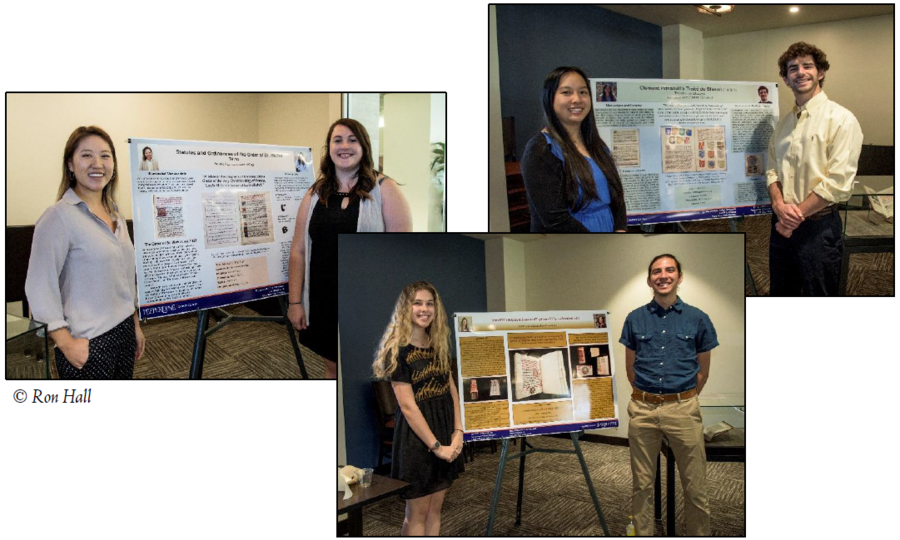 The Imitation of Christ by Thomas a Kempis, a bestseller in the Middle Ages, continued to be read into modern times; TM 602, a fifteenth-century manuscript of this text was studied by Brenna Ware and Hudson Casiple (who studied the manuscript and read the text in English translation).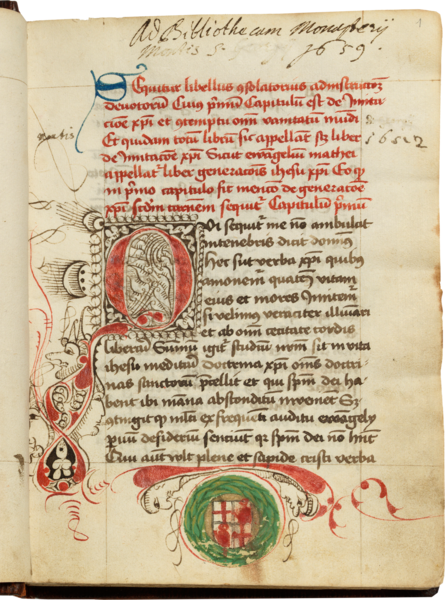 Thomas a Kempis, Imitatio Christi, Austria (Tirol) or Southern Germany, c. 1469-1491
They are now in Rochester New York, being used in a special joint program by the University of Rochester and the Rochester Institute of Technology.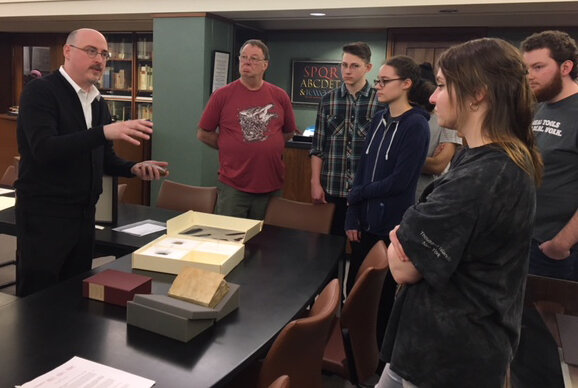 Steven Galbraith, Curator of the Melbert B. Cary, Jr. Graphic Arts Collection, Rochester Institute of Technology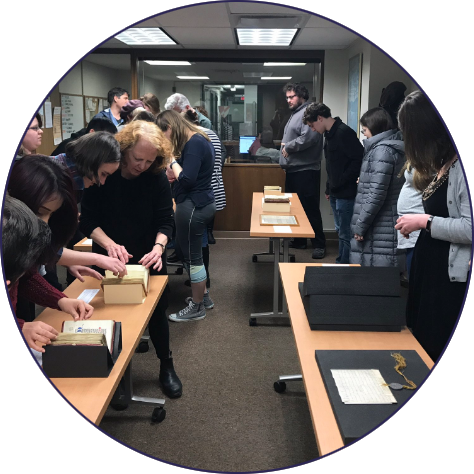 At the Robbins Library, University of Rochester
You can read more about the innovative programming the manuscripts have inspired on our website; look for the links to "The program in action" (the information from Rochester will be added in due course).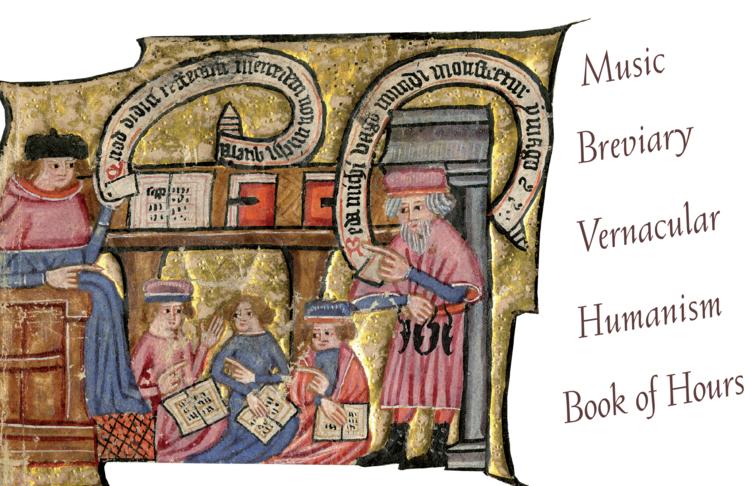 If you are attending the Congress, we are also exhibiting, so please come see us in the Exhibit Hall, Booth 57, Goldsworth Valley III, where we will have selected manuscripts from our new list ('Must-Haves': A Dozen Medieval Manuscripts for Teaching), as well as our publications on text manuscripts, illuminated manuscripts, Books of Hours, and medieval jewelry.
You can now receive periodic blog post updates by submitting your email up above in "Follow Us."