It is always a special pleasure when one of our manuscripts finds the perfect new home (and frankly, we have wonderful clients, so that is often the case). Today we would like to introduce two distinguished scholars, David Andrés-Fernández (Spain), and Jane Morlet Hardie (Australia), who have contributed this account of two Processionals now in the Rare Books and Special Collections at the University of Sydney's Fisher Library. As you will see, the historical circumstance that lead to two related manuscripts from sixteenth-century Spain being re-united today in Sydney is a remarkable one to contemplate. And there is a third related manuscript somewhere out there. If anyone knows where it is, please let us know.
So, without further introduction, here is our first guest blog. We welcome other contributions that explore how our manuscripts are being studied in their new homes.
Laura Light

University of Sydney, RB Add. MS 358University of Sydney, RB Add. MS 358 (detail)
Latin liturgical books's lifespan makes them fragile. Over time, changes of liturgical priorities in the Latin Church have resulted in stored books languishing in ecclesiastical library shelves. After that, wars, robberies, and other unfortunate events make them disappear or to be forgotten. What was originally an expensive and useful artifact becomes a piece of art to be rediscovered.


Fortunately, the wheel of fortune has been kind and has allowed us to reveal two related sixteenth-century Processional books from Seville now in Sydney. Thanks to serendipity, the sharp eyes at Les Enluminures and the conjunction of two scholars devoted to medieval and early modern Spanish manuscripts, two hitherto unknown liturgico-music books held at the Rare Books and Special Collections at the University of Sydney's Fisher Library have turned into two valuable books of plainchant from the 'hispalense' cathedral. They are related.
One, University of Sydney, RB Add. MS 358, was already held by the University.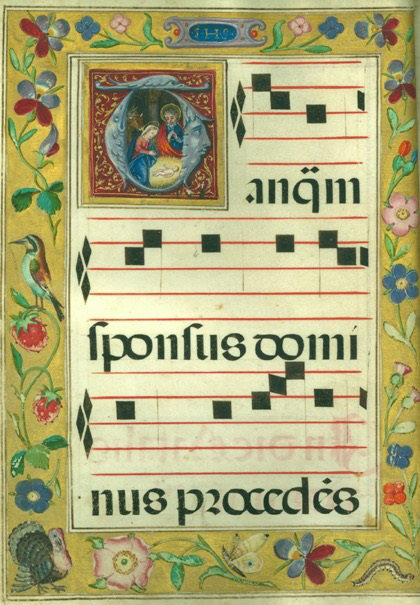 University of Sydney, RB Add. MS 358
The second, University of Sydney, RB Add. MS 406 Deane, was recently acquired from Les Enluminures.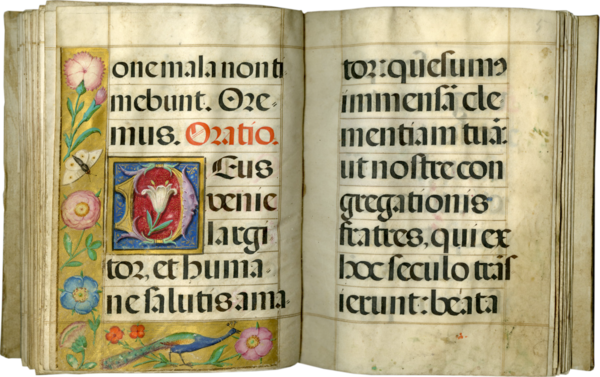 University of Sydney, RB Add. MS 406 Deane, formerly Les Enluminures, TM 769, ff. 31v-32
Dr. Jane Hardie (Sydney, Australia) and Dr. David Andrés-Fernández (Spain) are responsible for unraveling the puzzle and cracking the rubrics and contents of these manuscripts. They will be fully discussed in a forthcoming book on the four Sydney Processionals.
Now the authors of this blog look for the missing piece: a third Processional book from Seville, which complements the others.
A selection of the University of Sydney collection of Spanish Liturgical Music Manuscripts can be accessed here.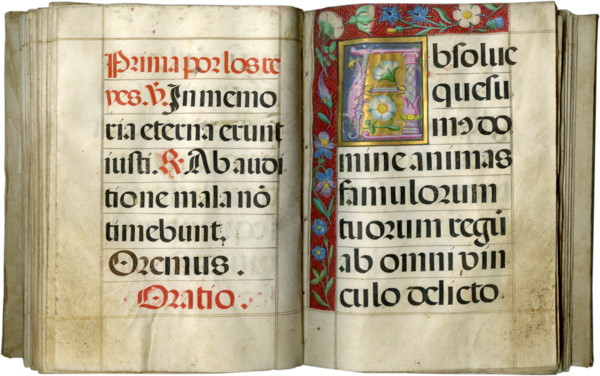 A resplendent opening of RB Add. MS 406 Deane, formerly TM 769, ff. 28v-29
A final note on Processionals, for those not familiar with liturgical manuscripts: these are liturgical books containing the chants, rubrics, and collects appropriate to liturgical processions. Since Processionals were intended to be carried, they were often small and portable. Processions were an important part of the liturgy during the Middle Ages and into the early modern era in both secular churches and within religious orders.

Processions, for example, preceded the celebration of the Mass on each Sunday, were an important part of the liturgical observances on saints's days and on other important liturgical occasions, and were assembled in times of need, to ask for rain, avert famine, or in the face of other catastrophic events. The Palm Sunday procession reenacting Christ's entry into Jerusalem is a notable example that is still celebrated today. Rites of death and burial were also accompanied by processions.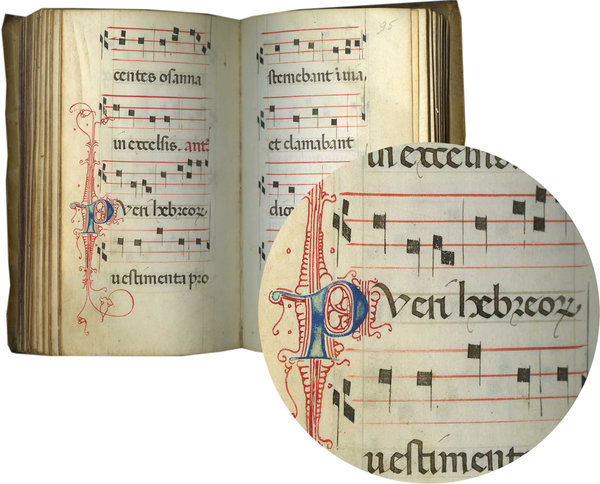 TM 515, Noted Processional, ff. 94v-95
You can read descriptions, and see images of the Processionals currently offered at Text Manuscripts by following these links: TM 515 and TM 718.
You can now receive periodic Blog post updates by submitting your email in "Follow Us"